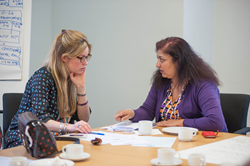 The ideas and new approaches that I've learnt have already paid dividends in terms of growth for our organisation.
London (PRWEB UK) 20 October 2014
Leadership development experts, ella Forums CIC was today (20 October 2014) confirmed as an Enhanced GrowthAccelerator Supporter. This means social enterprises and charities who join through GrowthAccelerator will get access to match funding, training courses and growth coaching to complement the specialist ella Forums leadership development programme.
GrowthAccelerator is a government-backed service that helps high growth businesses to achieve their ambitions through coaching, workshops, master classes and match funding. It provides support for business development, leadership and management training, access to finance and innovation. Businesses using the service are growing over four times faster than the average SME (GrowthAccelerator client surveys 2012-2014). As a registered training provider ella Forums will deliver targeted growth coaching to UK registered, Social Enterprises and Charities.
"The government is committed to supporting the growth of UK SMEs, including those in the expanding social enterprise and charity sector. These ambitious growing businesses contribute significantly to their communities and the UK economy. ella Forums are dedicated to inspiring and developing leaders in the Third Sector with our tried and tested personal development methods, which are successfully used by CEOs in the commercial sector. Because of this we are proud to be a supporter of GrowthAccelerator, working together with businesses to achieve high growth," explains the Founder and Chief Executive of ella Forums CIC, Brian Chernett.
Businesses are eligible to receive a package of support valued at £3,500 for a net cost of £600 if they have 1-4 employees and for a net cost of £1,500 if they have 5-49 employees. Additional funding is available through the ella Foundation, a charity set up to provide grants and bursaries to leaders of Third Sector organisations and Social Enterprises who may not be able to fund joining ella Forums on their own.
ella Forums member, Kieron Tarling , CEO of Visible Computing says; "I joined ella Forums using GrowthAccelerator match-funding for Leadership & Management training. This co-investment made the training that I needed affordable and allowed me to work with a team of people who specialise in developing skills for the Third Sector. The ideas and new approaches that I've learnt have already paid dividends in terms of growth for our organisation – demonstrating to trustees and board members that this was an investment in the whole enterprise, not just in me."
ella Forums will be hosting a free taster session with GrowthAccelerator in London on 26 November 2014. Any Social Enterprise or Charity can come along to see how it all works. They will get a range of information and first hand insights about developing themselves and their businesses.
Anyone interested in enrolling directly for ella Forums can contact ella Forums Membership Director, Phil Thompson on 07703 291 737 or go to http://www.ella-forums.org
Find out more about GrowthAccelerator at http://www.growthaccelerator.com
For more information on Ella Forums please contact:
Lorna Campbell, PR for Ella Forums | +44 (0) 7836 625999 or Brian Chernett, Chief Executive | +44 (0) 7740 932 121 | Brian(at)ella-forums(dot)org or go to http://www.ella-forums.org
About ella Forums: http://www.ella-forums.org
Launched in 2013 ella Forums CIC. is a Community Interest Company based in London with Groups in London, Manchester, Bristol and Birmingham.
ella Forums are a leadership development programme specifically designed to inspire and develop the leaders of Social Enterprises and Charities to grow their organisation. Chief Executives come together for monthly sessions where they hear the latest thinking from guest speakers, share best practice and receive coaching from experts - all done via the tried and tested personal development methods that have been successfully used by leaders in the commercial sector. In addition high level one to one coaching and measurement is provided.
About GrowthAccelerator
GrowthAccelerator is a service provided by the country's leading business growth specialists, known for delivering uniquely tailored advice to high-flying businesses. It's a partnership between private enterprise and government. The service has engaged with over 18,000 businesses to help them achieve their growth ambitions. Businesses supported by GrowthAccelerator grew their teams by 36% in the last financial year, compared to 5% for the average SME, creating over 36,500 jobs and generating £1.5billion of growth.