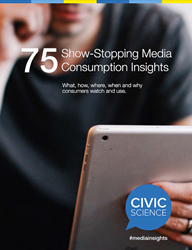 The research results included in the eBook reflect the opinions of hundreds of thousands of voluntary respondents.
Pittsburgh, PA (PRWEB) October 20, 2014
CivicScience, Inc., the provider of the intelligent polling and real-time consumer insights platform, the InsightStore™, today announced the release of a new eBook titled "75 Show-Stopping Media Consumption Insights" based on data collected and mined from hundreds of thousands of respondent profiles in the company's platform. The eBook is available for immediate download for free from the CivicScience website at: http://civicscience.com/75-media-insights.
75 Show-Stopping Media Consumption Insights is a compilation of various research outputs generated by the CivicScience InsightStore™, which currently aggregates the opinions of over 28.5 million anonymous respondents who have voluntarily engaged in the company's syndicated micro-surveys and have received no incentive or compensation. CivicScience's platform cycles through thousands of active questions each day, using automated data science and data mining to cross-tabulate and correlate respondent segments. Over 90% of the respondents featured in this new eBook are U.S.-based.
In the eBook, readers will learn valuable insights on consumer sentiment, behaviors, and psychographic profiles across a range of media consumption-related topics, including: second-screen devices; social media; advertising influence; reading; TV viewing; movie-going; screen time; selfies; and more.
Some example insights from the media consumption eBook include:

43% of consumers say they never unplug, with higher rates among those aged 18-24 and also among those who report they are "very unhappy."
When it comes to second-screen device usage when watching TV, those aged 13-24 are more likely to be engaged with the TV show on social media than older respondents, but across all ages of respondents, only 2.4% are engaged with that TV show's apps, games, or web content.
Regular movie-goers are 53% more likely than less-frequent movie patrons to say their friends and contacts on social media influence the movies and television shows they watch.
People who are most influenced by ads on the Internet vs. TV ads are 93% more likely to speak two or more languages fluently.
"Staying on top of the current pulse on media consumption behaviors and attitudes of consumers is more important than ever, when you consider the pace of technology innovation, social media growth, and the 24x7 availability of the Internet's influence," said John Dick, CEO and co-founder of CivicScience. "In many cases, reporting on and mining data collected 12 months or even six months ago doesn't cut it today. The insights featured in this new eBook were collected right up until press time, and the always-on nature of our polling network and platform allows us to monitor trends in real-time, identify actionable intelligence faster, as well as monitor changes over time. Not to mention, a lot of this information is just simply fun to read."
About the eBook methodology: All of the response data collected by CivicScience is through opt-in polls that run across the company's hundreds of publishing partner websites, and no personally identifying information (PII) is collected. CivicScience respondents are 13 years of age or older; participate voluntarily; always kept anonymous, even to CivicScience; and only aggregated response data is used in the company's products and services to clients. The research results included in the eBook reflect the opinions of hundreds of thousands of people. All of the data presented in the eBook have been weighted for U.S. census representativeness by gender and age. No clients, trademark owners, or celebrities have participated in conducting the surveys published in this eBook, and they have not endorsed, approved, or otherwise provided any input regarding the survey results published in this eBook.
To obtain a copy of the eBook "75 Show-Stopping Media Consumption Insights," please visit the CivicScience website here: http://civicscience.com/75-media-insights.
About CivicScience
CivicScience, Inc. provides the leading intelligent polling and real-time consumer insights platform, the InsightStore™. Its proprietary platform powers the world's opinions and quickly gets that data to the decision makers who care. Every day, CivicScience polls ask millions of people questions related to thousands of topics, while its powerful data science and big data technology analyzes current consumer opinions, discovers trends as they start, and accurately predicts future behaviors and market outcomes. CivicScience polls run on hundreds of premier websites, in addition to its own public polling site at http://www.civicscience.com. CivicScience's InsightStore™ is used by leading enterprises in marketing research, advertising, media, financial services, and political polling.
# # #