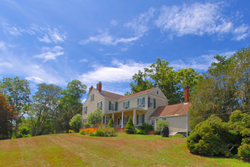 Shelter Island has historic homes on the real estate market right now, each with a story to tell and a special place in our Island's history.
Shelter Island, NY (PRWEB) October 21, 2014
Penelope Moore, of Saunders & Associates, announced that the Celebration of Historic Shelter Island Homes exhibition featured at Grenning Gallery has been extended through October 31, 2014.
Both a town and island located on the eastern end of Long Island, Shelter Island is an idyllic locale with residents who can trace their roots back to the American Revolution and historic properties, some actually from the pre-war era. Shelter Island can be reached by ferry from the North and is accessible via North Haven to the South, and is well known for being a popular retreat for artists, authors, photographers, and the like.
"The opening on October 11th was well received," Moore said, "so Laura Grenning has graciously allowed the paintings to remain on display through the end of the month." Moore continued, "Shelter Island has historic homes on the real estate market right now, each with a story to tell and a special place in our Island's history. It seems fitting to introduce paintings, vintage photographs and artifacts that artists have created over the years memorializing these properties at the Grenning Gallery in Sag Harbor."
Included among those paintings present is a very fine early 19th century painting by Shelter Island's Walter Cole Brigham (died 1870) depicting The Duvall Homestead at 140 North Ferry Road. The Homestead, on 2.7 acres, which includes an original wing dating to before the American Revolution has water views of the historic Sylvester Manor, Shelter Island's first plantation. Other featured paintings includes a contribution from folk artist Rodman Pell.
Vintage photos of the 1880's farmhouse formerly "The Harbor Inn", owned by Nik Cohn and Michaela Muntean, are also on display. Cohn is a British journalist, thought by many to be the "father of rock criticism". He also wrote the source material for "Saturday Night Fever". Muntean is an author who worked with Jim Henson and The Muppets, and has written over 65 Sesame Street children's books.
Also exhibited is an early 1920's billboard from a Dering Harbor Village estate once owned by Alice Fiske, whose family owned Sylvester Manor, Shelter Island's first plantation. This, along with several other vintage farm and real estate signs, were discovered in one of the few remaining barns in Shelter Island's enclave, which is the smallest incorporated Village in the United States.
"I thought that showing old paintings and photos of these fine artists retreats on Shelter Island are a perfect fit for the Grenning Gallery devotees", said Laura Grenning when she planned this exhibition. While the paintings are only for display, the properties themselves are indeed for sale.
About Us
Penelope Moore is a Licensed Associate Real Estate Broker who heads up the Shelter Island office of real estate brokerage Saunders & Associates, which has offices in Bridgehampton and Southampton, NY. With nearly $250 million in sales on Shelter Island, Moore has been the leading real estate broker in this Hamptons' enclave since 1997.
The Grenning Gallery, located at 17 Washington Street in Sag Harbor, NY has been a vital member of the Sag Harbor Community since 1998. Dedicated to the revival of classical art, the gallery, owned by Laura Grenning, showcases artists whose works utilize traditional methods created by the great masters. From color to composition, featured artists resurrect classical techniques in a contemporary fashion.
Links:
Grenning Gallery: http://www.grenninggallery.com/
Laura Grenning
Grenning Gallery
PO Box 3049
Sag Harbor, New York 11963
Cell 631-767-5302
Gallery 631-725-8469
Saunders & Asssociates Website: http://www.ShelterIslandRealEstate.com/
Moore Profile: http://www.hamptonsrealestate.com/penelopemoore/mybio.php
Duvall Homestead: http://www.hamptonsrealestate.com/hamptons-ny/expansion.php?innum=46827
Cohn-Muntean Property 45 Burns Rd: http://www.hamptonsrealestate.com/hamptons-ny/expansion.php?innum=52745
Contact: Gary Nolan – SVP of Business Development (631) 458-4912 \ (631) 702-0914 Gnolan(at)Saunders(dot)com
# # #