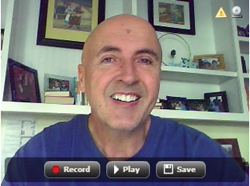 Many people still love getting traditional greeting cards. We just want to make them even more fun with the short link to a really special webcam video gift wish.
Los Angeles, CA (PRWEB) October 31, 2014
This holiday eCardGiftNotice.com makes it possible to add free WebCam Gift Messages to mailed holiday greeting cards, Gift Cards and even gift name tags for a personal touch not possible before. Record the WebCam Message, and "short links" are provided that can be written into the message area that when entered online show the recorded message. eCardGiftNotice recently added free WebCam Gift Message recording capability to their services.
David MacMahan, founder of eCardGiftNotice in 2000 says: "Of course we all would like to wish our loved ones happy holidays in person," but notes that in today's society, families all living near one another are rare, so mailed gift packages and cards are more the norm than traditional in-person exchanges.
David says his vision for the company was to create more personal and meaningful connections for families and loved ones through gift giving online. He says: "Some families are Skyping or Video Chatting, iMessaging, etc. as they communicate daily. At eCardGiftNotice we wanted to make it simple for people to create fun WebCam Recorded Greetings as individuals or families, they can add to packages, greeting cards or even holiday emails." He says he is seeing families singing Christmas carol songs, Happy Birthday's, blowing kisses, etc. as fun ways people are using the service.
The way it works is pretty simple. Buy cards and gifts as usual, or start in Go Shopping at eCardGiftNotice where they get a commission on purchases helping to cover the free service. Click on WebCam Notices, have some fun recording just the right greeting, taking as many times as you like. Once recorded, a gift image can be included or kept as a surprise. The message and card theme chosen can be emailed to yourself to keep, but also a url "short link" is generated. Sample: http://www.ecgn67hl That short link can be written onto gift name tags, put into Christmas Cards, etc. MacMahan even suggests putting the Video Short Link on Gift Cards this holiday. He says: There isn't much room for a great message on those Gift Cards sleeves, so add a link to a WebCam video and it makes them very personal and fun!" Other ways to use the eCardGiftNotice service can be found on their Creative Ideas Page.
Click on WebCam Gift Message (Get Started) to Record a personal or family greeting this holiday and add the link anywhere. So this holiday combine traditional greeting cards and holiday wrapped packaging with links to video messaging and let old meet new in fun ways.
eCardGiftNotice was founded in 2000 by David MacMahan to help overcome last minute gift purchase woes and boost the emotional connections between gift senders and recipients. MacMahan had been a gift inventor, designer and marketer for a decade for fifteen years prior with several number one gift items to his credit. The eCardGiftNotice service has been private labeled to several top 100 online retailers and smaller ones alike.