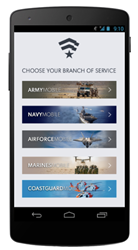 Westport, CT (PRWEB) October 16, 2014
Defense Mobile and Emida announced today that the companies have entered into an agreement to distribute its mobile solutions through Emida's network of independent distributors.
Defense Mobile has launched a nationwide 4G mobile service and a set of value-added applications that are designed to benefit, honor and reward U.S. military veterans and service members for their commitment and service.
Defense Mobile has established partnerships with the nation's largest network operators and device manufacturers in order to deliver superior nationwide coverage and attractive financing options on the newest smartphones for its members. Defense Mobile brands include: ARMYmobile, NAVYmobile, AIRFORCEmobile, MARINESmobile and COASTGUARDmobile.
"Having worked with Emida on many domestic and international projects over the past 20 years, I have gained keen insight into the capabilities and flexibility of their POS system and retailer network," stated Phil Prouty, Co-Founder and Executive Director of Defense Mobile. "Emida was the clear choice to facilitate distribution and fulfillment of Defense Mobile products and services. I am excited to once again be working with this group of professionals and look forward to a long relationship based on the common goal of supporting and improving the lives of the members of our military community."
Emida processes more than 240 million annualized payment transactions. The company supports a broad range of carriers and financial service providers over its network of more than 60,000 retail points. Its new partnership with Robert Jury & Associates, Inc. (RJA), a 30 year military partner and long-time supplier of products and services to all branches of the military community, will enhance this network to include on-base locations, big box retailers, and other national vendors. This will enable veterans and military service members to gain access to Defense Mobile's phones and services through several military channels, such as commissaries and post exchange stores.
"Emida is excited to partner with Defense Mobile, a new mobile service which actively seeks to make communication easier and more accessible to military personnel and their families," said David Kirtman, CEO of Emida. "We are proud to apply our extensive experience launching and managing electronic recharge platforms to a company that demonstrates true commitment to the military community."
"We are very pleased to be chosen by Defense Mobile as the on-base sales organization and product distribution supplier of their mobile service exclusively for the military community," stated Robert Jury, President of Channel Marketing Group, Inc., a division of Robert Jury & Associates, Inc. "We are proud to help facilitate such a great mission and are looking forward to our launch this fall."
About EMIDA
Emida is a leader in the global prepayment and value transfer market, operating in 37 countries throughout North, Central and South America, the Caribbean, Africa, Oceania, the Middle East and Europe. The company supports a network of more than 60,000 retail points with an annual dollar payment volume in excess of $1.5B, processing more than 240 million annual payment transactions.
Emida's network technology enables the domestic and international distribution and value transfer of many types of prepaid products and payment services. Its strategy is to build profitable, robust distribution networks for many prepaid products in targeted operating geographies, and to introduce unique cross border value products between regions. Emida's payment processing platform provides robust revenue solutions for distributors, ISOs, retailers, carriers and service providers alike.
About Defense Mobile
Defense Mobile provides mobile services, smartphones and apps to improve the lives of veterans, military service members and their families. Defense Mobile is a new nationwide 4G mobile service supported by veterans and designed for those who have served. The company offers the most popular smartphones, no annual contract plans, military-and-veteran only cash back rewards and applications that help veterans more easily manage the benefits they have earned. Defense Mobile has secured agreements to run on the largest mobile network operators, including AT&T and Sprint, so that veterans and military families receive superior coverage.
After validation of military service during purchase or activation, members receive both mobile service and value-added applications delivered directly to their mobile devices including: miliCASH, miliSOURCE, and miliMAIL. miliCASH is a mobile banking app with a pre-approved prepaid MasterCard® that delivers cash back rewards at participating merchants nationwide. miliSOURCE is an app that includes information about veterans' benefits available from the VA, state veterans' departments and veterans' service organization to help our members take advantage of all the benefits they have earned. Members also receive miliMAIL, a free email service that provides transitioning military personnel and Defense Mobile members with an email account that proudly confirms their affiliation to the branch of service they served.
You can learn more about Defense Mobile at defensemobile.com or the service brands at ARMYmobile.com, NAVYmobile.com, AIRFORCEmobile.com, MARINESmobile.com and COASTGUARDmobile.com.