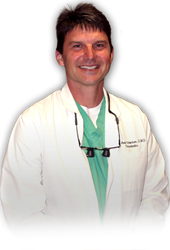 Tupelo, MS (PRWEB) October 16, 2014
This October, J. Michael Robertson, DMD recognizes Dental Hygiene Month by offering patients in Tupelo, MS a revolutionary gum disease treatment. Infection below the gum line causes redness and swelling, and when it is not treated in a timely manner, it is common for patients to lose bone support and eventually, lose teeth. Dr. Robertson is certified to perform the LANAP® protocol, which uses a laser to target gum disease and prevent further damage to supporting gum tissue and bone.
Good dental hygiene habits are the best way to prevent oral health issues from developing. These include brushing and flossing twice a day, and scheduling professional dental cleanings twice each year. Sometimes this proactive approach is not adequate because of a genetic predisposition, hormonal fluctuations, and tobacco use. Whether gum disease stems from a lack of proper oral hygiene or one of these risk factors, the resulting tartar build-up below the gum line causes serious infection and pain. Pockets form and pull the gums away from the roots of teeth until tenderness and sensitivity make brushing and flossing intolerable.
Traditional gum surgery involves cutting the gums away from tooth roots so the area can be thoroughly cleaned. Dr. Robertson provides a less painful alternative gum disease treatment for his patients in Tupelo, MS. Rather than wielding a scalpel to cut the gums and peel them back, he uses the LANAP® protocol on the diseased gums.
During this procedure, the small tip of the PerioLase® MVP-7™ laser is inserted below the gum line to target only bacteria and diseased tissue. Not only is this significantly less traumatic for the patient, it also stimulates tissue growth so that gums reattach to the roots of teeth quickly. Bleeding is minimal because the instrument cauterizes the area, and no stitches are necessary. Patients in Tupelo, MS who receive this gum disease treatment can expect a recovery time of days instead of weeks.
Dental Hygiene Month presents an ideal opportunity for patients to learn about the LANAP® protocol and address or prevent serious oral issues. More information is available on Dr. Robertson's website and patients can conveniently schedule a consultation appointment.
About the Doctor
Dr. J. Michael Robertson is a periodontist offering personalized dental care for patients in Tupelo, MS. Dr. Robertson received his B.A. from the University of Mississippi as a chancellor and Dean's List scholar, and his D.M.D. from the University of Mississippi School of Dentistry. He earned his certificate in periodontics from the University of Alabama. Dr. Robertson is part of one percent of dental professionals providing the LANAP® FDA cleared laser procedure for gum disease and periodontal treatment. To learn more about Dr. Robertson and his dental services visit his website at http://www.northmsperio.com and call (662) 269-1317.