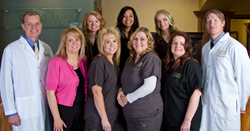 Even with all the recent changes to the insurance marketplace, many small and large business continue to offer some form of Flex Spending Account and it can be a great way for employees to pay for affordable LASIK
SLC, Utah (PRWEB) October 18, 2014
Dr. Brian Davis and his staff at Davis Vision Center in South Jordan are reminding Utah patients to utilize their employer Flex Spending Accounts (FSAs) or Flex Plans to receive affordable LASIK surgery before the end of the 2014 calendar year. As with most Flex Spending Accounts, funds that are not used by the end of the year are lost, so October is an optimal time to start planning the allocation of the remainder of those funds.
"Even with all the recent changes to the insurance marketplace, many small and large business continue to offer some form of Flex Spending Account and it can be a great way for employees and their spouses to pay for affordable LASIK surgery with pre-tax payroll deductions," said Dr. Brian Davis, LASIK surgeon in Salt Lake City, Utah. "As the end of the calendar year is approaching, we're encouraging all patients who have funds left in their FSA and who currently wear corrective eyewear or have less than ideal vision to schedule a consultation. We can show them just how affordable LASIK can be and how it really can change that aspect of their life."
Even employees who have already used the majority of their 2014 FSA funds can request their employer to set aside funds for LASIK at the start of the next calendar year so it's available in 2015. While all FSA plans may not cover the entire cost of the LASIK procedure, Davis Vision Center still offers easy monthly financing options that can make LASIK a reality for practically any budget.
Though LASIK is a highly intricate procedure done by skilled eye surgeons, it is actually a very quick outpatient procedure as well. LASIK can be completed for both eyes in less than one hour. Recovery time for LASIK is fairly quick and most patients can be back to work within several days of the procedure.
The LASIK procedure that Dr. Davis uses at Davis Vision Center uses precise laser technology to complete the necessary incisions in the eye without blades. The procedure permanently improves the patient's eyesight by slightly altering the shape of the cornea, allowing light and images to refract as they should within the eye. For most LASIK patients, they will no longer have to wear glasses or contacts after their procedure.
Dr. Brian Davis was one of the first eye surgeons in Utah to perform laser refractive eye surgery in 1996. Top date, he has performed more than 27,000 corrective eye procedures for Salt Lake City patients and those state-wide in Utah as well. Dr. Davis is a graduate of the University of Utah and attended medical school in St. Louis, MO. He is the president of the Summit/Wasatch county medical societies and is the director of the Eye Injury Registry of Utah.
For more information about the LASIK services Dr. Brian Davis offers at Davis Vision Center in South Jordan, Utah or to schedule a consultation, please visit http://www.davisvisionmd.com.