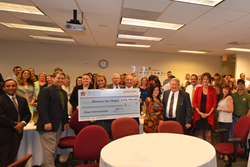 Addison, TX (PRWEB) October 20, 2014
Grand Homes presented a $300,000 check to Homes for HOPE, a sector of HOPE International, at the home builder's headquarters on October 9, 2014. The sale of Grand Homes' fourth Home for HOPE is what propelled the donation which will be used to provide microloans and other services for business owners in poverty-stricken countries across the globe.
The charity home was built by Grand Homes in the Frisco Hills community, at the edge of Little Elm and Frisco. Grand Homes' trade partners – subcontractors, suppliers and consultants – donated or discounted their labor, materials and services to help secure the donation upon the sale of the home. The donation from the sale of the home will benefit HOPE International, a microfinance network dedicated to alleviating world poverty by providing financial services for impoverished families. The impact of HOPE International and Homes for HOPE can be seen online at http://www.youtube.com/hopeinternational.
HOPE's primary service is the provision of microloans in 16 of the world's most desperate countries. Starting at only $50, these loans enable entrepreneurs to start or expand their small businesses, creating a steady income that will lift their families out of poverty. Across the country, Homes for HOPE has reached out to over 100 builders. Grand Homes has answered the call a fourth time to participate in the initiative that allows builders to have a worldwide impact by doing what they do best: build homes.
Stephen Brooks, CEO and owner of Grand Homes, believes in the idea of giving back. "Grand Homes has always supported, and will continue to support, many local charities to benefit the communities in which we build; Homes for HOPE allows us to have an impact beyond our own community to help eliminate poverty in areas of need throughout the world," says Mr. Brooks. The reason he feels so strongly about this cause is because of the lasting, life-changing impact each donation has on the individuals it helps and their families.
Those in attendance included: Stephen Brooks, owner and CEO of Grand Homes; Jack Nulty, Executive Director at Homes for HOPE; Leah Rutt, the daughter of HOPE International founder Jeff Rutt, Grand Homes employees and trade partners.
Trade partners who contributed goods and services to this cause include: Acme Brick, Allied Construction Professionals, Airtron Heat & Air, American Building Supply, American Dream Rain Gutters, Architectural Art, Big D Lumber, BMC Building Materials, Cathedral Plumbing, Champion Insulation, Eden Landscape, Elegant Cabinets, L&S Plumbing, Morgan Development & Supply, Proficient Concrete, Royal Baths, Stair Solutions, Starpoint Plumbing, Suncoast Post Tension, Sunrise Wood Designs, Titan Fence , Whirlpool Appliances and Wisenbaker Building Services.
For more information on Homes for HOPE, please contact Mary Jo Fogle with Grand Homes at (972) 387-6091 or mjfogle(at)grandhomes(dot)com.
About Grand Homes: Grand Homes was established by its founder Stephen H. Brooks in 1987 and continues to thrive in the Dallas market with innovative, award-winning architectural designs. Grand Homes builds over 400 semi-custom homes a year. With over 35 communities in the area, it's the largest privately held local homebuilder operating exclusively in the Dallas/Ft. Worth Metroplex. For more information visit http://www.GrandHomes.com.
About HOPE International: HOPE International empowers those living in need around the world to escape poverty by providing microloans, savings services, training, and mentoring to help people become self-sufficient. Working in 12 of the poorest, least-served countries in Africa, Asia, Eastern Europe, and the Caribbean, HOPE is a Christian faith-based 501(c)(3) non-profit organization focused on alleviating the many dimensions of poverty – physical, social, and spiritual – through microenterprise development.
About Homes for HOPE (H4H): H4H is a 501(c)(3) non-profit organization whose mission is to generate funding within the building industry to support the work of HOPE International and like-minded organizations who are helping to eradicate poverty in some of the poorest countries in the world.