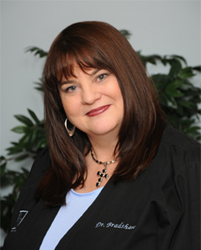 The Woodlands, TX (PRWEB) October 16, 2014
To show support for Dental Hygiene Month this October, Dr. Gayle Bradshaw is encouraging patients who need gum disease treatment in The Woodlands, TX to improve their periodontal health with the LANAP® protocol. This minimally invasive laser gum surgery effectively treats periodontal disease, lowering the risk of tooth loss and other adverse outcomes associated with the condition. The procedure also offers a low risk of bleeding gums, discomfort, and other undesirable side effects.
Many people do not realize that gum disease is associated with numerous local and even systemic health complications. In the mouth, the condition can cause gum recession, damage to the teeth and underlying bone structures, and eventual tooth loss. Research suggests that periodontal disease can also affect general health, since harmful bacteria can enter the bloodstream through the gums and move on to other parts of the body. Studies have shown increased incidences of heart disease, stroke, and pancreatic cancer in people with gum disease. In light of these findings, Dr. Bradshaw advises her patients to view protecting their oral health as an investment in their overall health.
With the LANAP® protocol, Dr. Bradshaw offers patients one of the least invasive types of gum disease treatment in The Woodlands, TX. The procedure does not require incisions, sutures, or prolonged recovery periods. Dr. Bradshaw directly targets periodontal disease with the PerioLase® MVP-7™ laser while leaving healthy gum tissue intact to support the teeth. The laser is highly precise and has no harmful effects on healthy tissue. The laser even stimulates regeneration in the alveolar bone, which holds the teeth in place; this may help affected teeth form better attachments to the bone. The laser also promotes blood clot formation in the gums, reducing the risk of infections. Since the procedure is minimally invasive, side effects such as bleeding gums and pain are also reduced.
During Dental Hygiene Month, Dr. Bradshaw encourages patients to stay attentive to potential signs of periodontal disease. Changes in gum health, including inflammation, tenderness, and recession, are common symptoms of the condition; bleeding gums are another strong indicator of periodontal health problems. Some people may also experience changes in tooth positioning or feelings of tooth mobility. Anyone who notices these signs should call Dr. Bradshaw's office to schedule a consultation for gum disease treatment in The Woodlands, TX.
About the Practice
Bradshaw Periodontics is a periodontal practice offering patients personalized dental care for The Woodlands, Texas since 1998. Dr. Gayle Bradshaw graduated Magna Cum Laude in 1994 from The University of Texas Health Science Center San Antonio Dental School. Dr. Bradshaw and her family moved to Houston to complete her Master's Degree in periodontal surgery at The University of Texas Dental Branch where she completed her studies in 1998. In 2000, she earned her Board Certification from the American Board of Periodontology. Dr. Bradshaw is part of one percent of dental professionals providing the LANAP® FDA cleared laser procedure for gum disease and periodontal treatment. To learn more about Bradshaw Periodontics and their dental services, visit their website at http://www.bradshawperiodontics.com and call (281) 377-8409.