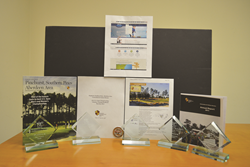 Certainly it's gratifying to be recognized by our professional peer association for this good work, but the real payoff is to hear and see firsthand how visitors/attendees respond favorably when visiting our county
Southern Pines, NC (PRWEB) October 17, 2014
Moore County's Convention & Visitors Bureau (CVB) was recognized by the Destination Marketing Association of North Carolina (DMANC) during the association's annual awards ceremony recently held in Winston-Salem. The CVB received four first-place awards (platinum) and one second-place award (gold). The CVB was awarded more platinum awards than any other destination marketing organization (DMO) within the state. The Destination Marketing Achievement Awards honor and showcase innovative, best practices, creativity and outstanding efforts in tourism marketing.
"The CVB team really stepped up their game this year as the U.S. Open Championships presented so many wonderful marketing opportunities for our destination. Certainly it's gratifying to be recognized by our professional peer association for this good work, but the real payoff is to hear and see firsthand how visitors/attendees respond favorably when visiting our county," stated Caleb Miles, President & CEO of the CVB.
The awards encompassed a wide range of initiatives including; the CVB's annual report winning gold in the Constituents Communications category and the Volunteer Training Handbook taking platinum in the Local Outreach category. And, the 2014 Visitors Guide won platinum in the Visitors Guide category.
For a web-based marketing initiative – the Moore Alive project in partnership with Partners In Progress (P.I.P.) won the platinum award, and in the category of "other" marketing initiatives – the online program to assist visitors with finding residential housing during the Opens, in cooperation with the local Realtors Association and its Multiple Listing Service (MLS) brought in platinum as well. A sixth designation, the Awesome Innovation Award, recognized in the Community Partners category was awarded for designing and implementing a training class for US Opens volunteers in conjunction with the local community college (SCC) and the USGA which rounded out the performance accolades for the CVB staff.