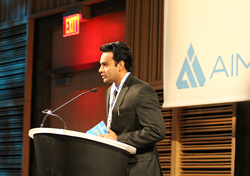 This was truly an important night, a red carpet night. It's our way of honoring tech brilliance in the community.
Omaha, Nebraska (PRWEB) October 17, 2014
Nearly 350 friends of technology attended AIM's Tech Celebration and first-ever C-Level Auction last night at the Holland Center in Omaha. According to AIM CEO, Kandace Miller, "This was truly an important night, a red carpet night. It's our way of honoring tech brilliance in the community."
AIM and the Holland Center staged a beautifully appointed showcase reception from 5:30 p.m. to 6:30 p.m. With the help of title sponsor Cox Business, celebration attendees enjoyed networking, entertainment, cocktails & hors d'oeuvres until the AIM Awards began at 6:35 p.m.
The award ceremonies honored winners in six categories. Here are the Tech Celebration Award winners for 2014:
Tech Student - Pawankumar Sharma, Graduate Student, University of Nebraska Omaha, CSG International Intern
Tech Educator – Sandra Vlasnik, Award winning instructor in the College of Information Science and Technology at the University of Nebraska Omaha
Tech Innovator – Luke Christiansen, Valvora Co-founder, a start-up software 'company' inside Union Pacific
Tech Leader – Sumeet Jain, Entrepreneur and Co-founder of Big Wheel Brigade software development firm and Co-founder and Lead Instructor of Omaha Code School – an immersive coding boot camp
Exemplary Emerging Business – Pen-Link, Lincoln-based company that develops software used to collect and analyze telephonic and Internet-based communications meta data and content
Exemplary Enterprise Business – Inflection, Inflection, a technology company with a portfolio of web products at the intersection of big data and privacy
AIM has long held a spring awards program in conjunction with their annual tech conference, Infotec. Making the Tech Awards a stand-alone fall event was, "another chance to bring the tech community together, raise money, and celebrate the industry," according to AIM's Director of Events Management, Dave Vankat.
AIM's first-ever C-Level Auction was held to raise funds for AIM's IT Pipeline initiatives to engage more youth in technology. The auction featured 18 of Omaha's prominent technology executives and the auction online services were donated by Omaha's own Proxibid.
The evening also featured the magic of Master of Ceremonies, Dave Arch, to add an element of fun and entertainment to the event. In addition to Cox Business, event sponsors included Omaha Media Group, Cosentry, Sirius Computer Solutions, and IP Pathways.
AIM's 2014 Technology Celebration Awards honor the tech brilliance in our community and is one more way that AIM promotes technology, empowers people, enhances organizations and creates brilliant communities.
AIM is a not-for-profit community organization that promotes technology to empower people, enhance organizations and create brilliant communities. AIM's signature services include Careerlink - the region's leading career development website, Infotec - the Midwest's premier business and IT conference, HDC, the Heartland Developers Conference, and Hatchfund - a crowdfunding source for artists. For more information about these services, training, youth programs, research and more, visit http://www.aimforbrilliance.org.