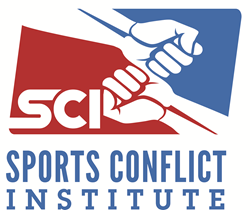 You have a responsibility to take care of your student athletes to the best of your ability
Portland, OR (PRWEB) October 16, 2014
According to Portland State Athletic Director, Torre Chisholm, risk management can be defined as doing everything possible to protect the best interest of student athletes.
"It's really encompassing. We're student-athlete service driven…But there's also a university perspective to it," Chishom states, "Risk management has really become an all-encompassing activity. And in today's role as an athletic director it's probably more relevant than it's ever been."
Sports Conflict Institute's Ken Pendleton highlights the question that most athletic directors face daily, "Do most schools have the same challenges?"
"The difference comes down to money," Chisholm begins, "You do risk management because you have a responsibility to take care of your student athletes to the best of your ability."
In terms of the evolution of Chisholm's athletic department, Chishom points out the fundamental roles in ensuring risk management.
"It is vital for every institution in the NCAA to have a very compliant program." Chisholm says, "Compliance has to be a shared culture and responsibility among your athletic staff and amongst your student athletes."
"Historically, athletics, by it's own nature… isolate themselves," Chisholm states, "You can't afford to do that in today's culture. Today, it's one of the big problems on the rise. You have to be in constant communication with the experts on your campus, to make sure that you're vetted concepts, and things that you're doing…help create kind of a checks and balance process for you as an athletic director."
Ken Pendleton reiterates the importance of working with experts on campus to mitigate possible risks within the athletic department. "It's not really just all about how athletics is doing. It's also sometimes about how the university views it," Chisholm explains. "We're in a position now where campuses are better able to understand what athletics is doing and how they operate. But what an athletics program has to do today, is they have to embrace what the university is willing to offer."
SCI Founder and Practitioner, Joshua Gordon, questions the type of worries an athletic director finds most unnerving.
"The number one thing you always worry about is the safety of your student athletes. And making sure that you have a program in place that meets the needs of your student athletes effectively" Chishom says.
The most unnerving factor, according to Chisholm, is "…You have 300 athletes who have a public perception that you can control whatever they're doing, but in reality, that doesn't exist."
In terms of checks and balances within the department and across all athletics, Chisholm explains the important of updating policies as well as the student-athlete handbooks.
"At the athletic level, it really starts first and foremost, you have to make sure that you're updating your policy manual, your student-athlete handbook, so everybody understands the way that you're operating." Chisholm explains.
"There are a handful of things you try to do to integrate them (student-athletes) into the university … but it really is about focusing on your internal controls and your partnerships on campus," he admits.
And when it comes to athlete's within the department seeking special treatment, Chisholm explains there's no room for that in college athletics.
"One of the things that's really important, for us, here, is that student-athletes know that there's no special treatment. You're students first. You might be an athlete. You might be high-profile. But we have to treat you like any other student," Chisholm explains.
Gordon explains that, "one of the roles that's important on a lot of campuses, in general, in dealing with conflict is the role of an ombudsman person," and asks Chisholm what his opinion is on how they help student-athletes on campuses, if Portland State uses an athletic ombudsman and how they can help.
"You know what's really funny is that actually, we have not had much engagement with that office at Portland State. At previous institutions I have—and successfully so," Chishom admits.
"We actually brought someone on who is actually a volunteer position- a retired faculty member -but had been a former student athlete, to actually work in an ombudsman role within athletics. Because one thing that we do experience is… the isolation of athletics. It is reasonable to say that sometimes your student-athletes feel more comfortable talking about problems and issues with an individual who they feel has experienced what they're going through," Chisholm explains.
"That's really an important aspect because, right or wrong, it really does provide a greater comfort level to a student-athlete with an issue," Chisholm says.
In conclusion, Chisholm states, "We have to be open and trusting to work with specialists to make sure that we're doing the best for our programs and the best for our student-athletes. It's a vital topic and it's only going to become increasingly important down the road."
Watch the entire interview. https://www.youtube.com/watch?v=YqscQj8l0wQ
About SCI
SCI supports competitive goals in athletics through understanding, preventing, and resolving destructive conflict both inside and outside the lines. SCI serves as a knowledge center and provides a range of services to help ensure student-athlete experience is part of a healthy university culture while optimizing performance on and off the field of play. Conflict is inevitable, but how we respond determines whether success follows or costs mount. SCI Founder Joshua Gordon has over 20 years of conflict management experience.