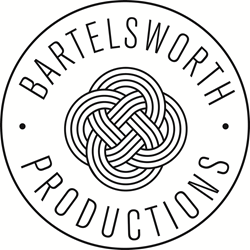 New York (PRWEB) October 16, 2014
Bartelsworth Productions, LLC, a budding production company specializing in comedic web content, is poised to announce the launch of its highly-anticipated web series, Back to Reality. Season one will be unveiled via YouTube on Sunday, October 26, 2014 following a star-studded launch party at Tribeca Cinemas in New York City.
The brainchild of comedy producers, writers, and entertainers John Hollingsworth and Shelby Bartelstein, Back to Reality (B2R) is a scripted, comedic look into the off-camera lives of four camera-hungry reality stars. Described as The Office meets The Real Housewives, B2R blends the subtle humor, idiosyncrasies and ridiculousness of everyone's favorite comedy with the juicy drama of Bravo's megahit reality TV series. Season one will consist of 5 episodes, airing every Sunday.
Co-creators, producers, and writers Hollingsworth and Bartelstein star in the series as members of its principal cast. The duo's undeniable comedic chemistry is reminiscent of Mindy Kaling – but double the trouble, of course.
Back to Reality features talent such as Carlton Tanis (CBS's The Good Wife), Jacob Green (The Believer – Grand Jury Prize, Sundance: 2001), Rod Lawrence (Comedy Central's Broad City), Mat Leonard (Vanya and Sonia and Masha and Spike, Shakespeare & Company), and Laura L. Thomas (Indie Soap Awards, Best Supporting Actress Nominee, TRAILER MADE). Guest appearances include Dee Hoty (Three-Time Tony Award Nominee, The Will Rogers Follies, The Best Little Whorehouse Goes Public, Footloose), Andrea Boehlke (CBS's Survivor), and Broadway's Jennifer Noble (Ghost). The Great White Way also lent its vocals to B2R's theme song, courtesy of Ciara Renée (Big Fish, Pippin). For more information, visit http://www.backtorealityseries.com.
Bartelsworth Productions will host a special launch party at Tribeca Cinemas on Sunday, October 26, 2014 where it will premiere B2R's first season. The event will feature demos from Foodie Say What, an emerging iOS and Android application for foodies, diners, and travelers looking to learn more about what's on their plate. New York City-based Grandma's Secrets and Brooklyn's SugarKiss Bakeshop will also be donating desserts to the party.
In addition, Bartelsworth Productions will tease its next project, Filter Free and Fabulous, which follows John and Shelby's antics around The Big Apple as they explore all that the city has to offer.
Founded in 2013, Bartelsworth Productions, LLC is a production company specializing in up-and-coming web series, soon to be branching out into other media outlets.
To stay up-to-date on its latest projects, connect with Bartelsworth Productions on Facebook (http://www.facebook.com/bartelsworth) and Twitter (http://www.twitter.com/bartelsworth) or visit http://www.bartelsworthproductions.com.