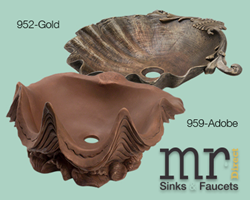 Toledo, Ohio (PRWEB) October 18, 2014
Bronze sinks have always been a popular choice from the MR Direct collections of vessel-style basins. Now, two of these bronze models have been cloned in their form, but not in their finish. MR Direct is proud to introduce its 952 sink in a gold finish, and its 959 sink in an adobe finish. The original models, with their traditional bronze finishes, remain in the line.
The 952 Gold style features the same ornate clamshell design of its predecessor, but, instead of red, copper, and burnt umber tones; the new model presents tans, yellow ochres and hints of gold throughout. Overall it has a weathered appearance which evokes an aura of antiquated elegance.
The 959 Adobe style exudes the warmth of the American Southwest culture, whose mud brick building material bears the same name. The organic appeal of this bronze sink is undeniable. Fully-constructed of bronze, this model offers the smoothness and coloring of adobe, while retaining much of the metal nuances of bronze, especially on its exterior.
The bronze of an MR Direct sink is primarily composed of a blend of the metals copper and tin, with a few minor elements sparsely included. MR Direct does not use bronze resin which can simulate the appearance of real bronze, but in actuality is a mixture of bronze powder, epoxy resin and sometimes paints. Genuine melted bronze is poured into MR Direct molds until set. After a mold is broken, the new sink is polished, and an initial patina is baked into the surface. Like pure copper, bronze will continue to develop its own natural patina which deepens over time. This "living finish" adds to the beauty of a bronze sink by defining its details and enhancing its character.
Bronze basins, like these new models, need little maintenance. Simple washing with water and mild detergents suffices. Harsh cleansers should be avoided as they can destroy the patina, which is one of the beloved qualities of bronze. Designed exclusively for the bathroom, these two spectacular sinks are made to be displayed on top of the vanity and admired for their stunning surface colorings and shapes.
For a new twist, or two, to traditional bronze sink finishes, the 952 Gold and the 959 Adobe offer dramatic and exclusive alternatives in the bath. For further details regarding these two new vessels, or to review the complete line of MR Direct sinks, faucets and accessories, visit http://www.MRDirectint.com.