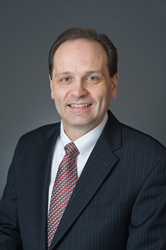 Chris exhibits a self-motivated passion for results in leading professional service teams and serving in various challenging leadership roles," said Jim Smart, CEO
New York , NY (PRWEB) October 17, 2014
"Chris exhibits a self-motivated passion for results in leading professional service teams and serving in various challenging leadership roles," said Jim Smart, CEO. "His successful record of establishing innovative strategic directions, executing a focused plan and motivating teams toward a common goal will add strength to our team of professionals."
With nearly 30 years of experience in professional services, the last 15 in various leadership roles, Clabby served as a managing partner for an international accounting firm as well as forming and leading a start-up financial advisory practice. His deep experience enables him to assist organizations of all sizes, from start-ups to Fortune 50, achieve their financial and operational goals through his innate understanding of their business challenges while recognizing and bringing the best team to the situation to help them capitalize on opportunities.
Working with clients to identify business challenges, Chris will develop cross functional finance, tax and operational solutions that deliver long-term value to his clients. He has a solid record of leading teams with a focus on performance and profit improvement which has enabled him to deliver millions of dollars of value to his clients.
Clabby earned a Bachelor of Science Degree in Accounting from St. John's University in New York, followed by a Master's of Science in Taxation from Long Island University. He was honored as a finalist in 2008's Tampa Business Journal Business Executive of the Year.
During his career, Chris has been an active member of the community. Currently he is a committee member for the Association for Corporate Growth. Previously, Chris served on the board of directors for the Florida Venture Forum; executive committee, board member and chair of the finance committee for the Tampa Chamber of Commerce, board member of the Star Tec Technology Center, board member at the University of South Florida School of Accountancy advisory board; and a Committee member of the Outback Bowl.
Smart Devine welcomes Clabby's expertise to the firm and looks forward to Chris's work helping organizations successfully develop and execute strategy, achieving growth, improving operating efficiencies and developing a sustainable culture of growth.
Smart Devine, headquartered in Philadelphia, provides a full range of accounting, advisory, tax, forensic accounting and litigation services to companies in various industries.
-End-