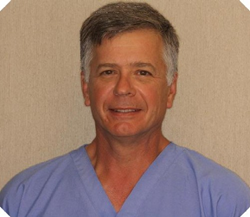 Corpus Christi, TX (PRWEB) October 17, 2014
Dr. Tilman Richards is a dentist in Corpus Christi, TX who honors Dental Hygiene Month this October by offering state-of-the-art solutions to patients experiencing bleeding gums and other oral health issues. Using the LANAP® protocol, Dr. Richards treats infection below the gum line without the cutting and sutures associated with traditional scalpel surgery.
Bleeding gums are often an indication of gum disease, which is caused by bacteria and acids in the mouth combining to create a sticky paste called plaque. This collects around the base of the teeth and below the gum line, and then hardens into tartar. Regular brushing, flossing and professional dental cleanings remove plaque and tartar. If tartar is not removed, sensitive tissues become irritated and form pockets, eventually destroying the supporting bone.
Scalpel surgery is the traditional treatment of severe gum disease. The gum tissue is cut back and bacteria and diseased tissue is removed. The gums are then stitched back in place and a patient can expect recovery time to last four to six weeks. The trauma of the procedure often alters the gum line permanently, causing recession and root sensitivity where they fail to reattach completely to the tooth roots.
Dr. Richards is a dentist in Corpus Christi, TX who is qualified to offer his patients a less invasive option. Rather than cutting back the gums, he inserts the tip of the PerioLase® MVP-7™ laser into the affected area, targeting only the bacteria and damaged tissue. The laser cauterizes to minimize bleeding gums, and at the same time it stimulates tissue to reattach to the tooth. Healing takes days instead of weeks, and most patients report a quick return to normal life activities.
Dental Hygiene Month provides the perfect opportunity for patients in Corpus Christi, TX to contact the dentist for a consultation. Information about the LANAP® protocol and other treatment options are available on Dr. Richards' website.
About the Doctor
Tilman Richards, DDS is a general dentist who has provided patients personalized dental care in Corpus Christi, TX since 1984. Dr. Richards graduated with honors from Sam Houston State University with a Bachelor of Science in biology, and he attended Baylor Dental School in Dallas where he received his degree as a doctor of dental surgery. He is also a member of the American Dental Association, Texas Dental Association and Nueces Valley District Dental Society. Dr. Richards is part of one percent of dental professionals providing the LANAP® FDA cleared laser procedure for gum disease treatment. To learn more about Tilman Richards, DDS and his dental services visit his website at http://www.corpus-christi-dentist.com and call (361) 238-2373.