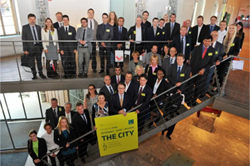 The Millennium Cities Network will bring the best practices of long-term strategic thinking to cities
(PRWEB) October 17, 2014
Extraordinary innovations are transforming today's cities into "Eco-Smart Cities" of the future. Such exciting visions of the future are shared each year at the Ljubljana Forum on the Future of Cities. This year, the Millennium Cities Network was initiated to bring together key knowledge partners, research, ideas, plans and share them in different forums. The first one, "Bilbao, Advance Services City" Forum will be held in spring 2015, organized by Ibon Zugasti, President of the European Regional Foresight College and Chair of The Millennium Project's Node in Spain.
Blaz Golob, Chairman of Ljubljana Forum and Chair of the South East European Node of The Millennium Project announced that Ljubljana has been chosen as the Green Capital of Europe 2016. "This year, we were delighted to share with the Forum the factors that lead to the selection of Ljubljana. This year's forum also presented the best practices and plans for the future by 12 European city leaders, announced the Smart City Platform, opened the Smart City Innovation Center for South East Europe at IBM Slovenia, and created the Millennium Cities Network," added Mr. Golob.
Ibon Zugasti pointed out that "cities that are doing well had long-term strategic vision; those that are failing did not. The Millennium Cities Network will work to bring the best practices of long-term strategic thinking to cities and promote business management models that are built in cooperation, open and having anticipatory vision that enables intelligent, sustainable and inclusive growth."
The Ljubljana Forum is an annual gathering that combines knowledge and experience of city governance and defines key areas, visions, and strategies of the future development of cities. The 2014 Forum was the 4th meeting and gathered 150 high level international participants--city leaders, futurists, urban planners, architects, academics & researchers, city industry solutions providers, consultants, government & EU institutions and banks, NGOs and media.
The Millennium Project is a global participatory think tank connecting 50 Nodes around the world that identify important long-range challenges and strategies, and initiate and conduct foresight studies, workshops, symposiums, and advanced training. Its mission is to improve thinking about the future and make it available through a variety of media for feedback to accumulate wisdom about the future for better decisions today. It produces the annual "State of the Future" reports, the "Futures Research Methodology" series, the Global Futures Intelligence System (GFIS), and special studies, including environmental security. Over 4,500 futurists, scholars, business planners, and policy makers who work for international organizations, governments, corporations, NGOs, and universities have participated in The Millennium Project's research, since its inception, in 1991. The Millennium Project was selected among the top ten think tanks in the world for new ideas and paradigms by the 2013 University of Pennsylvania's GoTo Think Tank Index, and 2012 Computerworld Honors Laureate for its contributions to collective intelligence systems. The 2013-14 "State of the Future" is now available.