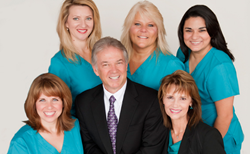 Dallas, TX (PRWEB) October 17, 2014
In honor of Dental Hygiene Month this October, Michael Neeley, DDS, PA wants to educate patients in Dallas, TX about the LANAP® protocol, an FDA-cleared gum disease treatment. Dr. Neeley is certified to perform this laser treatment to clear away bacteria and infection so that patients experience less pain and heal more quickly.
Gum disease, or periodontitis, begins with a build-up of tartar at the base of teeth and below the gum line. This hardened plaque is made up of bacteria and food acids, which are typically removed by proper brushing, flossing and professional cleanings. Genetics, tobacco use and hormonal changes may be risk factors in developing gum disease, as well as poor oral hygiene. Symptoms, such as tender, bleeding gums, often do not appear until the disease reaches more advanced stages. At this point, most periodontists recommend scalpel surgery.
During this traditional oral surgery, a periodontist cuts the gums and pulls them away from the roots of the teeth in order to expose the pockets of infection that have developed. The pus and bacteria are removed, and then the tartar is scraped away from the roots. Once the gums are stitched back in place, the patient may expect a recovery time of four to six weeks. In many cases the gums never fully reattach to the teeth, causing recession and an altered smile.
Dr. Neeley is able to offer a more effective gum disease treatment to his patients in Dallas, TX. Rather than causing further damage, his treatment involves inserting the tip of the PerioLase® MVP-7™ laser below the gum line to clean bacteria and tartar from the gums and roots of teeth. As the laser cleans, it also cauterizes the area so that there is minimal bleeding and a much faster recovery time. The surrounding tissue experiences less trauma and the laser treatment helps tissue to reattach to tooth roots for a complete recovery.
Patients who would like to use Dental Hygiene Month to explore this gum disease treatment can call or visit Dr. Neeley's office in Dallas, TX for more information and to schedule a consultation.
About the Doctor
Michael Neeley, DDS, PA, is a general dentist offering personalized dental care for Dallas, TX gum disease patients. Dr. Neeley is part of one percent of dental professionals providing the LANAP® protocol, an FDA cleared laser procedure for gum disease and periodontal treatment. To learn more about Michael Neeley, DDS, PA, and his dental services visit his website at http://www.dallasdds.net and call (214) 306-9033.