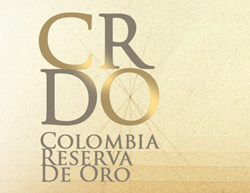 Miami, Florida (PRWEB) October 22, 2014
October 22, 2014.
Miami, Florida
Solferino Gold Mine/Colombia Reserva De Oro, LLC, a historic gold mine in Anori, Antioquia department, Colombia, made two important announcements today: They are selling gold for $650 an oz for a limited time and have hired Franyo Zapatta as their new CEO. Zapatta is geologist (P. Geo), M.Sc. (MinEx) from Queen's University, Canada, and former Exploration Manager of the Sixth Largest Mining Company in the World. Solferino Gold Mine/Colombia Reserva De Oro has offices in both Miami and Medellin, Colombia.
Solferino Gold Mine/Colombia Reserva De Oro will be initially mining 150,000 oz of gold, and is earmarking 40,000 oz of it to be sold at $650 an oz. Considering that gold closed yesterday at $1246, the possibility of getting it at $650/oz is unheard of. It is by far the lowest price in the world for gold today.
Franyo Zapatta a native from Chile has been the Head of Exploration in Colombia for the past 6 years. While working with the world's 6th largest gold mining company, Mr. Zapatta's responsibilities included evaluating all new gold deposits in Colombia. With over 5000 meters of diamond drilling tests and extensive knowledge of underground structures he has been a major contributor to the Solferino Gold Project.
By charging $650/oz for gold, Solferino is giving accredited investors a once-in-a-lifetime opportunity to virtually almost double the amount of gold they would normally get in today's market. Imagine getting 200 oz to sock away when planning on getting 100 at most. The last time gold was $650 was in November of 2006. That was eight years ago.
Zapatta is looking forward to manage Solferino Gold Mine/Colombia Reserva De Oro's operation due to his unique knowledge of the gold deposit there. He was the chief geologist and contributed to the knowledge of its Mesothermal gold deposit, a very unique mine, with many gold veins, showing impressive amount of gold such as nugget gold.
Further testing and research will be done to increase major gold resources mostly down the surface. The potential has been outline already by drilling and underground tunneling that show wider quartz veins (more than 6m wide) with higher gold content at depth. This gold deposit could easily become a world class gold mine.
For more information contact Colombia Reserva De Oro LLC at email address: 650gold(at)solferinogold(dot)com and http://www.gold650.com.