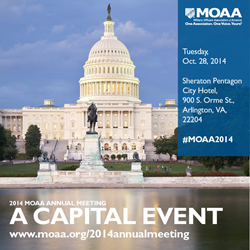 Alexandria, Va. (PRWEB) October 17, 2014
Military Officers Association of America (MOAA) will hold its 2014 annual meeting and other events Oct. 27-28 in Arlington, Va. Highlights include a no cost military career fair, informational seminars and the Community Heroes Award Night that spotlights the efforts of local citizens and uniformed servicemembers who support troops, military families, and veterans. The keynote speaker is Gen. John M. Paxton Jr., assistant commandant of the Marine Corps. Senator Elizabeth Dole will receive the MOAA Military Family National Service Award.
Dole is the inaugural recipient of The MOAA Military Family National Service Award. The award, presented by the MOAA Military Family Initiative, will be given annually and recognizes an individual or organization that has consistently demonstrated extraordinary commitment to the sustained health, vitality, and financial security of America's uniformed service families.
All events will be held at the Sheraton Pentagon City Hotel, 900 S. Orme St., Arlington, Va. For more information and to register, please visit http://www.moaa.org/2014AnnualMeeting/#registration.
ANNUAL MEETING AGENDA:
Monday, Oct. 27, 6:30 p.m. – 9 p.m.: Council and Chapter Levels of Excellence Award Dinner. Top MOAA chapters will receive four- and five-star streamers from Gen. John H. Tilelli Jr., USA (Ret), chairman of MOAA's board of directors. Cost is $35 a person.
Tuesday, Oct. 28, 9 a.m. – 1 p.m.: Military and Spouse-Friendly Career Fair. The complimentary career fair is open to active duty, retired, former, National Guard and Reserve servicemembers — officer and enlisted — and their spouses (pre-career fair seminars begin at 8 a.m.).
3:30 p.m. – 5 p.m.: The Annual Meeting of the Membership. The meeting is free and open to all MOAA members.
6 p.m. – 9 p.m.: The MOAA Community Heroes Awards. In its fourth year, the event will recognize individuals and groups who have demonstrated exceptional support to the wounded military and veterans' communities, including wounded warriors and their families in the Washington, D.C., metropolitan area. Master of Ceremonies is Scott Thuman, Emmy-award-winning senior political reporter covering the White House and Capitol Hill for ABC7 News and News Channel 8. The Presenting Sponsors are United Healthcare Military & Veterans, USAA is a Patron sponsor, The United Association of Plumbing and Pipe Fitting Industry of the United States and Canada is a Silver sponsor and Health Net, is a Bronze level sponsor. Cost is $45 a person (free for currently serving).
To register and for more information, visit http://www.moaa.org/2014AnnualMeeting/#registration
The annual [MOAA Community Heroes Awards spotlight the extraordinary efforts of everyday citizens, uniformed servicemembers and military spouses who support troops, military families and veterans.
The award is a signed and numbered print of "No Generation Left Behind," an original by artist Jerry Frech. He describes his painting as a tribute to Vietnam veterans who fought and rallied together so veterans of all wars will never be forgotten. In this piece, there is a contemporary war veteran representing the current conflicts being carried off the battlefield by two Vietnam veterans.
See more at: http://www.moaa.org/hero/