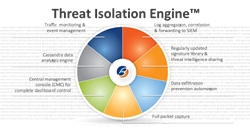 VIENNA, VA (PRWEB) October 21, 2014
Bricata, LLC, a leader in next generation intrusion prevention (NGIPS) security, today announced that its Bricata ProAccel System for network and cyber security multi-vector threat defense is now available to both commercial and federal customers in both appliance and Cloud-based configurations.
This new offering delivers a full complement of next-generation security capabilities to defend against a wide spectrum of threats. ProAccel provides 500% more speed and processing throughput to ensure timely and actionable threat detection at the perimeter, data center and within cloud environments. With its high performance engine, ProAccel delivers more timely threat prevention in a single appliance at roughly half the cost of traditional IDPS solutions, making it the ideal solution for organizations with significant security concerns, but with limited budgets for technology and staff.
"Bricata's integrated threat defense provides superior performance and value while leveraging any existing firewall investment," says Bricata CEO John Trauth. "It is designed for both small and large organizations that understand the need for improved security, but have budget constraints or limited security personal to operate disparate systems. It's also an ideal product for organizations looking to consolidate multiple tools for simplified management or more cost-effective scalability."
The Bricata solution delivers multiple security functions normally found in multiple stand-alone products, with a simplified management interface to make operations and maintenance much easier than navigating disparate tools. In addition to NGIPS, Bricata includes SSL decryption, full packet capture, event management, and log aggregation, correlation and forwarding, data protection and exfiltration prevention, web content filtering, application profiling, and policy enforcement.
At the nucleus of the Bricata product is the open-source Suricata engine. Suricata's multi-threaded processing capabilities and superior accuracy make ProAccel a comprehensive, next generation threat management solution.
Designed to provide security at the core of the network where 80% of threats occur, Bricata's fully integrated ProAccel solution is available in eight speeds – 500 Mbps, and at 1, 3, 5, 10, 20, 40 and 100 Gbps – giving it the flexibility to protect networks large and small.
"Bricata provides speed without sacrificing performance," co-founder and CTO Iain Davison explains. "Using a multi-threaded architecture, ProAccel is truly a 'protection accelerator" tuned specifically to threat detection deep in the network's core, inspecting all seven layers of the stack versus the three layers inspected by other products, Bricata captures 99% of malicious attacks based on benchmarking parameters developed by NSS Labs."
To learn more about Bricata' security products, visit http://www.bricata.com.
# # #
About Bricata: Bricata is a leading developer of innovative, high-throughput network security and data protection solutions. Our Bricata ProAccel Appliances are based on Next Generation Intrusion Prevention Systems (NGIPS) technology, enabling both small and large enterprises to secure and protect data and networks cost effectively, without sacrificing performance or creating bottlenecks that inhibit productivity.
Using our high-speed solutions to automate the capture, analysis and disposition of threats to network security at the core, Bricata offers more efficient threat protection across network and cloud-based devices. Built on the open source Suricata engine, and augmented with proprietary software and hardware to make it faster, more reliable and more user friendly, Bricata delivers double the throughput and detection performance in a single appliance at roughly half the cost of traditional IPS solutions.
Now deployed across both the public and private sectors, Bricata's security products are enabling its clients to do more with less, providing the means for customers to minimize the time, risk and expense of maintaining a reliable intrusion prevention infrastructure so that they can be more productive, competitive and compliant at a dramatically reduced cost. See for yourself – visit us at http://www.bricata.com to schedule a demo or a test drive.