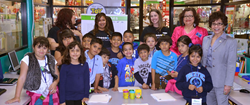 "Studies show that if a child does not learn to read by second grade the likelihood that they will even graduate from high school also drops dramatically," said Cesar Zaragoza, Woodcraft Rangers Program Coordinator
Los Angeles (PRWEB) October 20, 2014
Curacao is proud to announce the second year of the successful program: "Learn to Read-Read to Learn" Tutoring Program. "We are determined to give kids one of the most essential skills for success, reading proficiency," said Ruth Garcia-Corrales, head of the Community Affairs Programs for Curacao.
A public-private partnership spearheaded by Woodcraft Rangers and Curacao Stores, have launched their second year in an afternoon tutoring program designed to combat the alarming rate at which high school students graduate unable to read. The "Learn to Read-Read to Learn" initiative was formulated to engage disadvantaged students through motivational messages imbedded into the program to give them confidence and self-esteem to excel. "Studies show that if a child does not learn to read by second grade the likelihood that they will even graduate from high school also drops dramatically," said Cesar Zaragoza, Woodcraft Rangers Program Coordinator.
Tutoring is given by High School Students hired to tutor second graders of Pacific Elementary School in Huntington Park and Tenth Elementary School in Los Angeles, both programs take place at Curacao stores, on Monday and Wednesday for one group and Tuesdays and Thursdays for a second group at each location. Tutors work the first hour helping the kids with their homework and the second hour in areas they need to improve. The kid areas at each store are built with the latest technology in tablets from Nabi to entertainment and education.
The Curacao Team and "Learn to Read-Read to Learn" partners believe that by assisting children early on in Language Arts and Mathematics students will be equipped to achieve better grades and continue on to higher education and college. This emphasis at the second grade level of education will set the foundation for healthier communities in the long run, because instead of giving individuals something for the short term, this tutoring initiative will teach children "how to fish" beginning at an early age. The initiative's vision is to provide low-income families a way to transition out of poverty through education, thereby allowing them to access gainful employment in the future.
# # #
About Curacao
Curacao is one of the leaders in the retail industry in the market they have presence; its chain of department stores are included consistently among the top 50 electronic and appliance stores in the United States. With its new store in Tucson, the recent complete transformation of the company, the new fresh image, plus its culture service, Curacao places by itself for the future attracting an ample base of buyers. Each of its 11 stores located in California and Arizona counts with an average of 100 thousands square feet that offers to its customers a wide range of products, services and its proprietary credit. Curacao has been well known on how to capture the consumer, innovating and marking tendencies for three decades. Founded in 1981, headquarter is based in its main store in downtown Los Angeles. For more information visit: http://www.icuracao.com.