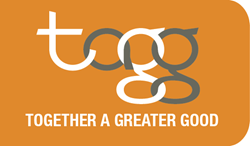 Omaha, Nebraska (PRWEB) October 21, 2014
Together A Greater Good (TAGG), an Omaha based startup, has just launched a mobile app that provides a fresh way for people to support their favorite non-profits, schools, youth teams and places of worship. It is easy, convenient, routine, and socially influential, all without spending an extra dime. "We are excited to create the first app in Omaha that supports both local businesses and organizations," said co-founder Leslie Fischer.
TAGG users simply ask the server or cashier at over 80 participating businesses to "TAGG" their purchase when paying. Then you choose who to support, and the business donates 5% back to them, facilitated by TAGG. "We are the next generation of dine out nights benefiting organizations. People are busy, so we allow them to show their support when and where they want," said co-founder Holly Baker.
TAGG is integrated with social media allowing users to share their good deed, giving credit to the business for the donation and providing exposure for the business and organization supported. Users can also see good deeds of their friends and family.
TAGG is currently supporting over 90 organizations including the Open Door Mission, Hope Center for Kids, and Ronald McDonald House Charities Omaha. TAGG is free as long as they are promoting it to their supporters and actively raising money. "We help organizations gain more support from regular givers, plus engage new or inactive supporters who may not have disposable income or don't think their small amount matters. If people use TAGG throughout the year, even $2 at a time can really add up," said Fischer.
TAGG provides businesses a marketing tool that doesn't cost them anything until they have a paying customer first. "Businesses get donation requests all the time, and it's usually not feasible to give to everyone. TAGG provides a positive alternative to saying no, which also results in exposure, new customers, and increased loyalty," said Baker.
More information about the mobile app can be found at http://www.togetheragreatergood.com, including a list of participating businesses and organizations, and promotional video.
About TAGG (Together A Greater Good)
TAGG's purpose is to revolutionize the way businesses and people do their part to give back to non-profits, schools, and teams. TAGG's mobile app makes giving back fun & easy by allowing users to "TAGG" their purchases at participating businesses. Through social media integration, the TAGG app also provides awareness for non-profits and businesses. Every single interaction with the app inspires & motivates users to take part in the social good. The mobile app was developed by Agilx, LLC in Lincoln, Nebraska, and is sponsored by Remax Results Real Estate and Eleven Twenty-Three Media & Creative, both of Omaha. Learn more at http://www.togetheragreatergood.com/. Download the free app at http://portal.togetheragreatergood.com/public/download or search for Together A Greater Good in the Google Play or Apple stores.