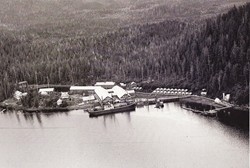 Ketchikan, Alaska (PRWEB) October 17, 2014
Waterfall Resort, a seafood cannery turned Alaska's most popular fishing lodge, celebrates its storied history in honor of Alaska Day today, marking the anniversary of the formal transfer of the territory from Russia to the U.S. in 1867. Pioneers founded the original Waterfall Cannery in 1912, and original elements of the record-breaking cannery are incorporated into every guest experience during prime fishing season. Reservations are now available to book an all-inclusive sport fishing vacation next summer, June 12 – August 17, 2015.
Historic Waterfall Cannery was first developed when an innovative salmon processing camp aboard an old sailing ship merged with a fish canning facility, marking the beginning of the company's climb to become the largest, most efficient cannery on the west coast of Prince of Wales Island.
For generations, the location was known for being home to some of the best fishing in the state and, to this day, Waterfall Resort guests fish in the same spots that once produced world record-breaking amounts of king salmon (Chinook) and silver salmon (Coho). With more than twenty different varieties of sport fish to catch, Resort guests can also reel in everything from halibut to rockfish and yelloweye to ling cod on any given day.
After changing ownership in 1922, construction began and many of the buildings that currently stand at Waterfall Resort were built. For example, the white clapboard cabins that once provided lodging for workers have since been renovated and now provide comfortable accommodations for guests. The buildings that historically processed large amounts of fish are now used for processing, fileting and flash freezing each day's catch to easily ship home following each visit. And the current General Store is aptly named, as this is where cannery employees once purchased their goods during the summer season and is now home to guest accommodations and the resort's front desk and gift store.
In 1973, the cannery and surrounding 52 acres of land were sold to the Des Moore family who converted it into Waterfall Cannery Resort. In 1980, The Waterfall Group, Ltd. purchased the operation and transformed the property into one of the finest remote sport fishing destinations in the world. Its legendary location combined with its all-inclusive four-star guest service, expert guides, and hearty Alaskan dining make for an unforgettable vacation year after year. For more information, call Waterfall Resort at 800.544.5125 or visit http://www.WaterfallResort.com.
About The Waterfall Group
Resort is managed by The Waterfall Group, leaders in adventure hospitality management. Founded in 1980, The Waterfall Group destinations are known for their unique accommodations, friendly customer service, expert marine crew and close proximity to the best sport fishing in Alaska. Welcoming more than 50,000 guests at its resorts, The Waterfall Group boasts an impressive guest return rate that includes multiple generations. The Waterfall Group also manages Waterfall Resort's exclusive luxury sister property Steamboat Bay Fishing Club, the closest lodge to the best fishing in Southeast Alaska.