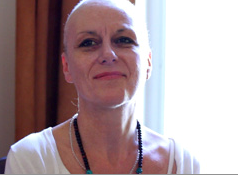 Sherman Oaks, California (PRWEB) October 17, 2014
Vision Films' award-winning Documentary "Beauty & the Breast" shows viewers an intimate look at nine real women diagnosed with breast cancer, and their brave decision to share their story so that anyone affected by the disease can discover and learn options for treatment.
"If you or anyone you know has breast cancer, this film helps demystify the disease by showing strength in the face of adversity," says film director, Lilian Komorowska. "My two grandmothers passed away from the disease when I was still a baby. To honor them and to support every woman who struggles with decisions about breast cancer, I made this documentary so we can all learn about options for treatment. I invite the global community to join me on this collective journey by sharing this film with someone who needs support today. To know the road ahead, we can all learn from those coming back."
Nine women appearing in the Documentary were all diagnosed with breast cancer. They bared their souls and their scars, providing Liliana with complete access to their inner circle of family and friends. We experience their most intimate confessions and their daily moments of pain and victory. The resulting film is a poignant, often humorous, and intimate portrait of hope and survival. It shares compelling insight, guidance for preventative choices, and available options in traditional, alternative, and complementary medicine.
"The courage, humor and warmth in which these women dealt with illness on screen is both gripping and exemplary," says Lise Romanoff, Managing Director/ CEO of Vision Films, Inc. "The film is a testimony to the magic we can all own in our lives when we take possession of knowledge and use it wisely."
Liliana's greatest rewards come from the many "thank you" letters she receives from women who tell her "Beauty and the Breast" helped saved their lives. This life-changing documentary is a must-see for anyone who wants to understand and support someone battling breast cancer.
For more information about "Beauty and the Breast" and to watch it instantly, visit the http://www.beautyandthebreastmovie.com and http://www.facebook.com/beautyandthebreast
About Vision Films
Vision Films (http://www.visionfilms.net) is a worldwide distributor of over 800 independent Feature Films, TV Movies, Documentaries, and Music Specials, and licenses all available rights from Theatrical, Video/DVD/Blu-Ray, Television, and VOD/Digital Media rights to both the International and Domestic marketplaces. Lise Romanoff is Vision's Managing Director/CEO, Worldwide Distribution.