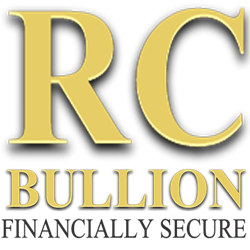 To help new investors, RC Bullion has created a new informational mini-course to help those with little or no experience in purchasing precious metals, rolling over or transferring into precious metal-based IRAs.
Los Angeles, CA (PRWEB) October 17, 2014
In a continuing effort to provide the most competitive pricing in the industry, RC Bullion now offers shipping and insurance coverage on precious metals purchases that are absolutely free on all IRA transfers, 401(k) rollovers, and direct delivery. This offer extends to all orders no matter the size, large or small (minimum order of $5K required for direct delivery and $10K for retirement account transfers or rollovers).
This offer comes in addition to RC Bullion's previously offered no charge for storage or custodial fees for up to three years (on orders in increments of $25,000). Depending on their situation, clients are able to make purchases of precious metals and not be charged for any additional transactional fees for years to come.
Of the offer, RC Bullion Managing Director John Rozdzielski says: "Our commitment has been and will continue to be for the best customer service and pricing. Once they've made the decision to invest in precious metals, we want our clients to feel that we take the security and timeliness of their orders very seriously." Should clients have any questions about prospective orders, orders in processing, or completed orders they can simply contact our phone or email support for a prompt response.
All Shipments Are Fully Insured and Guaranteed
Gold and silver are shipped in nondescript packaging ensuring safe, secure delivery. All orders are fully insured and require an adult signature. Shipments by mail or express carrier are insured to $100,000 per package. Your order is not your liability until the parcel is signed for and taken into your physical possession. The labels, return address, and packaging give no indication of the valuable contents of the package. Rozdzielski says, "Our clients can rest assured that their packages will arrive discreetly, safe, and sound."
Every order can be followed every step of the journey via its tracking number. The client is able to track the order's progress from the time of creation until their products are delivered.
The Highest Protection Possible
For storage of precious metals, RC Bullion uses the Delaware Depository Service Company, a Delaware-based precious metal storage service providing vaulting and shipping services for individual investors, companies, and financial institutions worldwide. Their customers include investors, banks, brokerage firms, refiners, and major precious metal and coin dealers. They are the largest American precious metal depository outside of New York City.
The Delaware Depository Service Company is a high security facility built to the highest standards and most stringent controls. Your precious metals are given the most vigilant protection possible around the clock, 365 days a year. There is no safer location or facility for your assets.
In addition to the physical security and internal controls, the Delaware Depository maintains $1 billion in "all-risk" insurance coverage. Their policy is underwritten by Lloyd's of London and covers all possible risks from the usual flood and fire to all manner of exotic catastrophes of physical loss and/or physical damage such as acts of war, cyber-attack, radioactive contamination, or terrorism.
Advice for New Investors
To help new investors, RC Bullion has created a new informational mini-course to help those with little or no experience in purchasing precious metals, rolling over or transferring into precious metal-based IRAs. The free course was designed to cover a variety of common questions and pitfalls and to help investors make informed decisions as to whether investing in precious metals is right for them. "We created this course," Rozdzielski said, "to include information full of tips and expert advice to help an investor make decisions that could save them thousands of dollars."
This informational course may be downloaded at: click here "complimentary Gold IRA Investment Course"
For more information on RC Bullion's Gold IRA Investing Department, visit http://www.rcbullion.com or call (213) 465-4835.
About RC Bullion:
Since 1998 the founders of RC Bullion have been trading precious metals and have become a trusted national leader in adding precious metals into individual retirement accounts. They are specialists in conversion, transfers, and rollovers of existing IRAs or former 401(k)s into precious metals. They also can provide investors with a wide range of physical products delivered safely and securely to their doors.