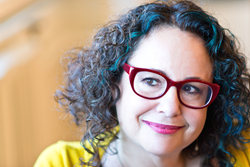 Salt Lake City, Utah (PRWEB) October 17, 2014
Salt Lake Community College and KUER on October 27 will host National Public Radio's Brooke Gladstone, who will speak on "Contemporary Journalism in the Age of Digital Media."
KUER News Director Terry Gildea will moderate a Q & A with Gladstone, currently known for her role with NPR's "On the Media," at 7 p.m. in the Grand Theatre at SLCC's South City Campus, 1575 South State Street, Salt Lake City.
Gladstone's journalism credits include being NPR's first media reporter, an NPR Moscow-based reporter and senior editor for NPR's "All Things Considered" and "Weekend Edition." She has received two Peabody awards for her reporting, along with a National Press Club Award and an Overseas Press Club Award. Her graphic-form nonfiction media manifesto "The Influencing Machine" has received wide acclaim.
Gladstone's appearance at the Grand is a ticketed event, but also free and open to the public. For more information or to order tickets, call 801-957-3322 or visit http://www.slcc.edu.
The picturesque Grand Theatre is a 1,100-seat venue located at Salt Lake Community College's historic South City Campus, home of the innovative and state-of-the-industry Center for Arts and Media at 1575 South State Street in Salt Lake City. The Grand Theatre was chosen by Sundance Institute to be a screening venue during the 2015 Film Festival. The Grand dates back to the 1930s when it was part of South High School, which SLCC purchased in 1989, a year after the school closed. The theatre began offering productions that year and has since with great care and expense retained its Depression-era charm and attraction while also incorporating the latest technology in lighting and sound. Every season the Grand is host to award-winning theatre and dance productions and concerts that attract arts enthusiasts from all along the Wasatch Front. Students and faculty in the arts at SLCC's South City Campus now enjoy and, as a result, excel from having access to the Grand's nostalgic look and feel and the Center for Arts and Media all in one place.