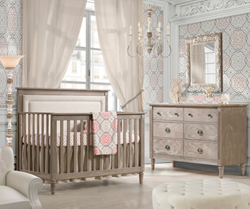 "We are thrilled to see Liz and Roo expand into Canada with the help of Natart Juvenile", stated Caroline Eager
Louisville, KY (PRWEB) October 17, 2014
Liz and Roo, the purveyor of premium made in the USA baby bedding, announced its expansion into the Canadian market with a new alliance with Natart Juvenile, who will serve as a distribution partner for the brand. Beginning in November, 2014, more than 15 new stores across Canada will carry the Liz and Roo baby bedding line. The Liz and Roo brand is already available in more than 125 stores across the United States and Puerto Rico.
"We are thrilled to see Liz and Roo expand into Canada with the help of Natart Juvenile. Our growth has been measured in the two years since creating Liz and Roo, and this opportunity to increase our footprint in Canada came at the right time. Our mill has expanded and we continue to hire additional employees to support the company's exciting growth," said Caroline Eager, Owner of Liz and Roo.
The partnership between Natart and Liz and Roo began in June 2014 when Natart Owner, Antonio De Bonis, approached the baby bedding brand with the concept of designing an elegant linens line to complement Natart's new assortment of wood cribs, including the Provence, Ithaca, Emerson and Rustico designs. These Greenguard certified cribs had been in design development for more than a year and the company was seeking a partner to produce soft, gender neutral bedding to perfectly complement the designs.
Creating a new linens line for these cribs "was a smart idea," stated Caroline Eager, Owner of Liz and Roo. "These Natart cribs are inspired by international architecture and are hand carved out of solid wood, offered in four gorgeous stains. Showcasing those cribs dressed in elegant linen crib bedding only serves to enhance the look."
"Our goal in the Canadian market is to provide cribs, dressers and gliders along with Liz and Roo bedding that aesthetically matches our products, which are made in North America with high quality raw materials. These four essential elements are also coordinated with our Baby Jeanius Essentia mattresses and Lullaby Paints paint to ensure that we are offering the maximum safety and a healthy start for all babies. We want our customers to feel confident that we have done great research and selected the best materials in order to produce designs with a focus on durability, health and safety," said Antonio De Bonis, Owner of Natart.
Incorporating brushed oak and hand rubbed finishes, Natart Juvenile's cribs feature beautiful woodwork, intricate details and a neutral color palette with tones of Owl gray, Sugarcane, Mink, and White. Liz and Roo Owner, Caroline Eager designed six different crib sets to pair with this aesthetic, combining linen crib skirts in gray, taupe and willow with luxe blankets in complementary tones, plus coordinating crib sheets, rail teething covers, changing pads, curtains and valances. An emphasis on mix and match designs means the Liz and Roo bedding can be coordinated with more than one crib for added flexibility.
About Liz and Roo
Liz and Roo, a division of American Made Dorm & Home, is the premier designer, manufacturer and retailer of made in USA baby bedding and bumperless crib sets that emphasize safety, workmanship and style. A women-owned business, Liz and Roo's products can be found in more than 140 specialty baby stores and juvenile furniture shops throughout the USA and Canada. Liz and Roo was founded in 2012 and is headquartered in Louisville, Kentucky with production facilities in Sylva, North Carolina. For more information and to view Liz and Roo's complete assortment of baby bedding and accessories please visit http://lizandroo.com/.
About Natart Juvenile
Natart Juvenile is a family run business since 1997. Two brothers, Antonio and Michele, design and produce every collection with a dedicated and caring team of professional woodworkers to offer the highest quality, healthiest, most versatile, durable and uniquely designed nursery & big kids rooms available. Three brands, Natart, Tulip and Nest Juvenile, cover a wide range of Traditional, Modern, Classic and Rustic designs which are made in Quebec, Canada. We also offer high quality complementary pieces, such as Gliders, Rocker & Ottoman sets, Mattresses and UnMess convertible closet organizers to complete a perfect and healthy nursery. For more information please visit http://www.natartjuvenile.com , http://www.tulipjuvenile.com & http://www.nestjuvenile.com.