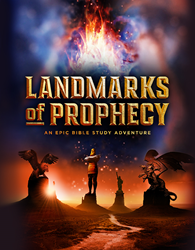 Many are worried about the deteriorating state of our world, and experts are saying it's one of the most challenging times in human history
Sacramento, Calif, (PRWEB) October 17, 2014
Landmarks of Prophecy, a new Bible-based series beginning October 31, 2014, is designed to help people from all walks of life cope with today's onslaught of modern challenges, promising to bring practical insights and encouragement in a time of rampant fear over such emerging threats as Ebola, the rise of religious extremism, and constant economic uncertainty.
Presented by Doug Batchelor, president of Amazing Facts and host of television's Amazing Facts Presents and radio's Bible Answers Live, the 21-part series is being broadcast from Albuquerque, New Mexico, but will be available worldwide for viewing on televisions and on computers and smart devices at YouTube and http://www.aftv.org. Using the latest media and broadcast technology, this series is designed for today's sophisticated audiences and presents the landmark themes of the Bible in a compelling new way.
While Landmarks is a unique study experience in the Bible that explores prophecy in light of today's headlines, Pastor Batchelor says you don't have to be a Christian to enjoy it. "We've designed it so that anyone from any faith or worldview can learn what the Bible really has to say about prophecy and many more topics."
For instance, viewers will get a chance to learn what the Bible really says about the Second Coming in light of the recent Left Behind film featuring Nicolas Cage. Other presentations will include eye-opening revelations about hell, death, and the afterlife; facts about the antichrist, the mark of the beast, and the seal of God—plus incredible information about why there is suffering in the world and the United States in prophecy.
Dean Dennis, marketing director for Amazing Facts, says, "Many are worried about the deteriorating state of our world, and experts are saying it's one of the most challenging times in human history. Landmarks, a free series to watch, will bring perspective to all the noise and reveal practical information about how anyone can survive and even thrive in the midst of today's crises and those yet to come."
Those interested in watching Landmarks of Prophecy either locally in Albuquerque or worldwide can visit http://www.landmarksofprophecy.com for more information.
Pastor Doug Batchelor is a recognized expert in Bible prophecy and has been featured on National Geographic and local Fox News affiliates. Amazing Facts is a Christian ministry dedicated to sharing the full and everlasting gospel by every available means. Learn more about Amazing Facts at http://www.amazingfacts.org.