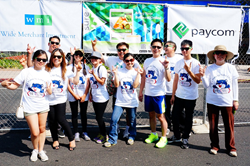 City of Industry, CA (PRWEB) October 17, 2014
US Bankcard Services, Inc. (USBSI) and the sure3 team participated in the 30th annual AIDS Walk Los Angeles. sure3 tek Inc is a partner of USBSI that offers online turn-key solutions for restaurant merchants across the nation. The AIDS Walk is a movement that has been giving hope to the millions of people that are affected by the disease known as HIV/AIDS. HIV/AIDS is an infection that attacks the human immune system making the body prone and vulnerable to infections and diseases that would normally be non-life threating. As of today, there is no known cure for HIV/AIDS; however AIDS Walk Los Angeles has raised nearly 2.3 million dollars this year alone in an effort to find a cure for HIV/AIDS. Every year, the AIDS Walk serves as a reminder to all those affected by the disease that there is still hope for a cure to be found.
The AIDS Walk draws thousands of supporters annually that partake in the 10 kilometer (6.2 mile) trek. Many walkers register and participate in teams to show that their organization supports the fight to end the battle with HIV/AIDS. This year's walk was filled with spirited teams that chanted and shouted in livelihood; our team wore sure3 flags and USBSI shirts to show our dedication to always giving back to the community. The thousands of participants of AIDS Walk Los Angeles came from different ethnicities, ages, and backgrounds, all joining in the fight against HIV/AIDS. This was one of USBSI's first joint community events with the sure3 team, and it was for a great cause that shines light to the millions affected. USBSI has long been an advocate of giving back to the community and it was a great experience to be able to do so alongside sure3 tek Inc.
If you would like to learn more or support AIDS Walk Los Angeles, please visit http://www.aidswalk.net/losangeles for more info.
To learn more about sure3 tek Inc and its solutions, please visit http://www.sure3.com/ for more info.
About US Bankcard Services, Inc.
US Bankcard Services, Inc. is a top rated MSP that offers competitive rates, incredible customer service support, and cutting edge technology in credit card processing service. USBSI offers a wide array of value-added services, including sure3 online turn-key solutions, gift card services, check guarantee, PCI-DSS compliance consultancy, and 24-7 multilingual customer service and technical support. US Bankcard Services, Inc. is a registered MSP/ ISO of Elavon, Inc. Georgia.
For more information about merchant bankcard services please visit us at usbsi.com or call us at: 1-888-525-8558.
###