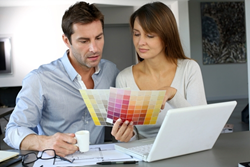 As home values continue to climb, it won't be surprising if more homeowners tap into their equity.
Chicago, IL (PRWEB) October 16, 2014
The Federal Savings Bank, a Midwest based lender, has a seen an increase in the amount of home equity borrowing with the rise of home values.
RealtyTrac's first-ever U.S. Home Equity Line of Credit Trends Report on October 6th revealed that the rate of home equity line of credit borrowing climbed 21 percent in the 12 months ending June 2014, as lenders originated 797,865 'HELOCs' across the country during that time. This gain marked the highest level since the 12 months ending June 2009. Additionally, HELOC originations represented 15.4 percent of all loan originations, marking the largest share since 2008.
Janet Gels, a homeowner from Coldwater, Ohio, told Bloomberg on October 9th that she closed on a $30,000 HELOC and used a portion of the funds to convert her property into a bed and breakfast. She noted the benefit of a HELOC is she only uses what she needs and doesn't pay interest on whatever's left. Plus, the funds can serve as reserve money during the draw period.
Daren Blomquist, RealtyTrac vice president, said HELOCs offer borrowers a few key advantages.
"A HELOC enables homeowners to leverage additional equity they may have gained since refinancing while still preserving the rock-bottom interest rate on their first position loan," he said. "This recent rise in HELOC originations indicates that an increasing number of homeowners are gaining confidence in the strength of the housing recovery and, more importantly, have regained much of their home equity lost during the housing crisis."
Why are homeowners tapping into their equity?
The data from RealtyTrac is positive news for homeowners and prospective home buyers. It shows owning a house presents usable value, which may encourage more consumers who have been on the fence about buying to commit.
There are various reasons a homeowner could use a HELOC. Keith Gumbinger, vice president of mortgage data firm HSH.com, said one of the driving factors behind more HELOC borrowing in 2015 will be remodeling, Bloomberg reported. Renovation is the most common reason, and some homeowners leverage their equity to consolidate other debts.
Per CoreLogic's latest Home Price Index Forecast on October 7th, home prices are expected to climb 5.2 percent between August 2014 and August 2015 when including distressed sales. When excluding distressed sales, the analysts anticipated a 4.7 percent rise. As home values continue to climb, it won't be surprising if more homeowners tap into their equity.
If you're interested in building your own equity via a home purchase, contact the Federal Savings Bank, a veteran owned bank.