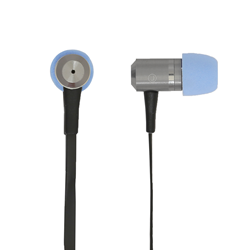 You can put [AirBuds] in your ears, and after awhile, you totally forget you have anything in your ears
Los Angeles, CA (PRWEB) October 21, 2014
This month, AirBuds, creator of the Most Comfortable Earbuds, received a glowing review from the tech blogging website, NH Tech. A blogger from NH Tech contacted AirBuds last month, interested in writing a review after hearing the growing buzz around their Most Comfortable Earbuds. Upon trying AirBuds, NH Tech rated them a 9 out of 10, raving about the unique design, impressive sound quality and incredible comfort of AirBuds' memory foam earbuds.
"At AirBuds, there is no doubt that we stand behind the quality and comfort of our product, 100 percent. So, it gives us great pleasure knowing that other people stand behind our product too," said Nick Waterhouse, CEO and founder of AirBuds. "We are happy to receive such a positive review from NH Tech and hope that, by reading their words, more people are encouraged to give our product a try."
The review, published on NH Tech on Oct. 6, discusses the many features that set AirBuds apart from their competitors. Right away, their reviewer noted the sleek, eye-catching design of AirBuds' packaging, describing it as "amazing" and "top-notch." The NH Tech blogger was also blown away by the quality of sound coming from AirBuds' in-ear headphones. Not only did they find the sound to be crisp and clean, but also capable of providing the listener with surprisingly satisfying basslines.
However, it was the unique design of AirBuds' Most Comfortable Earbuds that really earned them their A-rating. AirBuds' flat, tangle-free cable and hands-free Smart-Mic both received honorable mentions in NH Tech's review for their convenience and ease of use. Most notably though, NH Tech's review emphasizes the long-lasting wearability and comfort of AirBuds' Fit-All foam tips. After four consecutive hours of use, the author assures readers that these earphones really do live up to their name.
"You can put [AirBuds] in your ears, and after awhile, you totally forget you have anything in your ears," said author, Cameron Shryock.
Glowing reviews, like this most recent one from NH Tech, help reiterate and strengthen AirBuds' message that their earphones are, in fact, the Most Comfortable Earbuds.
About AirBuds:
Creator of The Most Comfortable Earbuds, AirBuds, Ltd. (Air-Buds.com) is a Los Angeles-based company that provides an affordable earbud, ideal for travel, exercise, hands-free phone use and everyday listening. Their dedicated staff of audio specialists works to ensure that listeners experience the utmost comfort in order to truly enjoy the benefits of high quality audio.