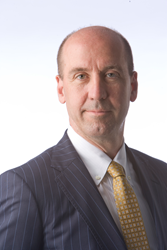 Expect technology to continue to move from the large corporate farms to even the smallest of family farms and, in the process, it will transform agriculture as we know it.
Anaheim, CA. (PRWEB) October 17, 2014
Agricultural Trend Expert Jack Uldrich will return to California to speak at the Produce Marketing Association's Fresh Summit in Anaheim on "Embracing Disruptive Technologies." Uldrich spoke earlier this year at the Spring "Fresh Summit" Event.
"According to the Food and Agricultural Organization (FAO) of the United Nations, global demand for food is expected to increase 70% by the year 2050. This sobering fact forces produce companies to scrutinize current business practices that will prove insufficient to meet the exponentially growing demand for worldwide food."
Uldrich's keynote, along with Dr. Bob Whitaker, Chief Science and Technology Officer at PMA, and a panel of experts, will provide insight into the disruptive technologies that are emerging —how these technologies will affect the produce industry and how farmers and retailers can leverage them to transform their respective businesses into one that is poised to meet the future demand for food. Among a few of the topics Uldrich will discuss are how exponential advances in biotechnology, nanotechnology, renewable energy resources, and satellite and sensor technologies will affect agriculture in the coming years.
An internationally renowned speaker, and bestselling author, Uldrich is well versed in agricultural trends, he has spoken to numerous agricultural clients such as Land O' Lakes, Novozymes, and the California Ag Summit. He also addresses trends in manufacturing, retail, finance, and health care among others.
His most recent book, Foresight 20/20 will see its second edition this winter. For more insights into the trends he speaks on in agriculture see his article on "Five Future Trends in Agriculture."
Following his talk in California Uldrich will head to Atalnta, Chicago and New York City respectively to keynote ABB/Thomas & Betts latest product launch.
Parties interested in more information regarding Jack Uldrich, his books, daily blog or speaking availability can visit his website.
Media wishing to know more about the event or Jack as a farm futurist can contact Amy Tomczck at (612) 343.0660.