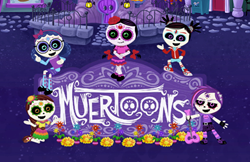 Hollywood, CA (PRWEB) October 18, 2014
Wilmer Valderrama's WV Enterprises has taken an exciting approach to launching his new animated series "Muertoons" (http://www.muertoons.com), by choosing Premier Hispanic grocery chain, Northgate González Market, as the series' first window of distribution. The mobile friendly distribution window marks the first time a premiere scripted animated series is launched using the marketing and distribution strength of a supermarket chain. The program also marks a first as an innovative shopper marketing promotion that will reward consumers who purchase select products with exclusive episodes of the Muertoons series.
The Muertoons animated series is a touching tale of five friends in a world apart and centers around the Mexican Holiday and celebration, Dia De Los Muertos. The series is Produced by Wilmer Valderrama, who is also a voice in the series. Muertoons also stars Alexa PenaVega of the SPY KIDS™ franchise and is collaborating with Klaus Badelt (Pirates of the Caribbean: The Curse of the Black Pearl), one of the most acclaimed and prolific film composers of this generation, on the music for the series.
"Muertoons is a universal story for the entire family that fills the void of Latino community representation with content that is designed to be shared by families across generations," said Wilmer Valderrama. "Today is not about forcing audiences to tune in to a specific time or place, but rather allowing them to opt in wherever they are. We are excited to make Muertoons available at the universal family meeting place: grocery. We are blessed that Northgate Gonzalez Market shares our vision."
During the three-week promotion period from October 15th through November 4th, consumers who purchase participating brands at Northgate González Market or Los Altos Ranch Market will earn exclusive codes on their receipts to unlock two episodes of the animated series, "Muertoons" where they can view the content on their mobile devices or connected home devices.
The program is executed in partnership with CausePlay, a company that creates mobile platforms for exclusive and patented distribution of advertising and content through large, targeted publishing partners with a focus on Grocery Chains.
"The decline in profits due to the loss of sales through the DVD business has forced producers and content creators to look for different revenue models," says Jonas Hudson, C.O.O. of CausePlay. "By partnering with brands to fuel gift with purchase promotional programs and grocery chains to distribute the content, Producers can find a new revenue generating window and marketing platform for their content."
Consumers can learn about the full range of partner products participating in the program through in-store signage, island displays, digital and social media and in-store announcements. "Northgate González Market continues to drive new and innovative promotions at retail and this disruptive distribution platform is no exception," said Mike Hendry, Vice President of Marketing, Northgate González Market. "We take pride in the supporting the history and cultural relevance of the "Dia De Los Muertos" celebration and want to provide our customers with unique opportunities and experiences that our shoppers value."
Offer Details
Consumers can unlock two exclusive episodes of the animated Muertoons series only at Northgate González Market or Los Altos Ranch Market by purchasing select participating products from 10/15/14 to 11/04/14. The purchase requirement must be met before local sales tax. See stores for a list of participating products. For more information and for details on the promotion, please visit http://www.northgatemarkets.com or http://www.losaltosranchmarket.com
About WV Enterprises
WV Enterprises (WVE) is a film and television production company established by multi-hyphenated entertainer, Wilmer Valderrama. The company is responsible for a wide variety of programming ranging from animation and scripted series' to alternative programming, with dozens of new projects in development. After recently securing a round of private funding, WVE has expanded from film & TV production into additional markets including music, events, consumer products, and apparel. The Muertoons series stars Alexa Vegas (Spy Kids, Sin City), Madie Davenport (From Dusk Till Dawn, Noah), Tiffany Thornton (Sonny with Chance, So Random), Madison De La Garza (Desperate Housewives), and Tara Strong (Power Puff Girls).
About Northgate Gonzalez Market:
Northgate Gonzalez Market is a premier Southern California supermarket chain that caters to the Latino community. Family-owned, operated and headquartered in Anaheim, CA, Northgate operates 39 high-volume stores in Orange County, Los Angeles and San Diego counties, providing the highest quality merchandise, fresh and prepared foods and personal service. Learn more at http://www.northgatemarkets.com
About CausePlay
Causeplay is a mobile solutions company for retailers. CausePlay builds mobile platforms for large distribution channels and publishers to deliver content, promotions and advertising. CausePlay focuses on grocery, CPG and non-traditional publishing channels. For more information, visit http://www.cause-play.com.