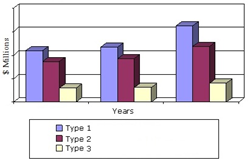 Global Market for Gas Flow Meters, Sensors, and Monitors to Reach $6.4 Billion by 2019
Wellesley, Mass. (PRWEB) October 17, 2014
BCC Research (http://www.bccresearch.com) reveals in its new report, Gas Sensors and Gas Metering: Applications and Markets, the global market for gas flow meters, sensors, monitors, and secondary flow instrumentation is estimated to exceed $6.4 billion by 2019, registering a compound annual growth rate (CAGR) of 5.9% from 2014 to 2019. The gas flow sensors and monitors segment is surging at 6.7% CAGR for the projected period.
The market for gas flow sensors and monitors is expected to grow faster than the markets for flow meters or secondary instrumentation. Stack gas monitoring is expected to become the largest application segment of the market with 21.6% by 2019, while custody transfer applications fall into second place with 19.7% and flare gas monitoring takes over third place with 16.6%.
Market drivers include new legislation (especially in the U.S. and Europe) affecting major user industries of gas sensing equipment, such as the chemical and petrochemical industry. Other factors driving the market include innovative designs, lower prices, expanding applications areas, increasing Southern European, South American, and Asian interest in environmental awareness and work safety.
"North America and Europe each accounted for over one-third of the global market for gas meters, sensors, monitors, and secondary instruments in 2013, while Asia accounted for less than a quarter of the market," says BCC Research Dr. Edward Gobina. "By 2019, Europe is expected to be the leading market, with 36.1% of the global market."
Gas Sensors and Gas Metering: Applications and Markets presents data on demand for gas metering and gas sensors/monitors for different applications in current U.S. dollars for the major global regions. Market share is presented for all major products, applications, gases, players/regions, and at the global level.
Editors and reporters who wish to speak with the analyst should contact Steven Cumming at steven.cumming(at)bccresearch(dot)com.
About BCC Research
BCC Research publishes market research reports that make organizations worldwide more profitable with intelligence that drives smart business decisions. These reports cover today's major industrial and technology sectors, including emerging markets. For more than 40 years we've helped customers identify new market opportunities with accurate and reliable data and insight, including market sizing, forecasting, industry overviews, and identification of significant trends and key competitors. We partner with analysts who are experts in specific areas of industry and technology, providing unbiased measurements and assessments of global markets. Our clients include the top companies in industries around the world as well as universities, business schools, start-ups, consulting firms and investment companies. BCC Research is a unit of Eli Research LLC. Visit our website at http://www.bccresearch.com. Contact us: (+1) 781-489-7301 (U.S. Eastern Time), or email information(at)bccresearch(dot)com.
Data and analysis extracted from this press release must be accompanied by a statement identifying BCC Research LLC, 49-2 Walnut Park, Wellesley, MA 02481, Telephone: (+1) 781-489-7301; Email: editor(at)bccresearch(dot)com as the source and publisher. Thank you.