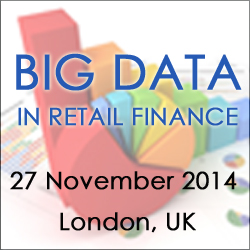 (PRWEB UK) 17 October 2014
SMi is proud to have Professor Mark Whitehorn, Chair of Analytics, School of Computing at the University of Dundee, speaking about unusual analytical techniques that can give companies and banks a competitive edge at the 2nd annual Big Data in Retail Financial Services conference taking place on the 27th of November 2014 in London.
In his address on data and analytics he will discuss the Benford's distribution technique as an essential way for spotting certain kinds of fraud, highlight the Monte Carlo simulations which were vital for solving complex problems and will look at how often to sample big data.
Packed full of timely presentations and real life case studies, this great networking opportunity will demonstrate where and how to use Big Data to gain a competitive advantage. This event will also provide the opportunity to make better sense of data and will shed light on how to make the right, cost-effective decisions.
Reasons to attend:

Profiling customers - find out how to really get to know clients
Learn how to use data more effectively in key decision making processes
Understand privacy issues: how to implement best practice to mitigate the risks
Analyse the newest tools for implementing robust big data processes and technologies
2014 Key speakers Include:

Alan Grogan, Chief Analytics Officer, Royal Bank of Scotland
Bob Skerett, UK Telematics Director, Royal & Sun Alliance
Orlando Machado, Head of Customer Insight and Engagement, Moneysupermarket
Sergio Vieira, Director of Customer Insights & Interaction, Lloyds Bank Plc
Alastair Barter, Senior Policy Officer, Information Commisioner's Office
Oliver Werneyer, VP, Data Distribution Leader, Swiss Re
Professor Mark Witehorn, Chair of Analytics, School of Computing, University of Dundee
Max Hunter, Senior Business Consultant, Intelligent Shopper Solutions, Aimia
Darren Hodder, Director, Fraud Consulting Ltd.
For more information please visit http://www.smi-online.co.uk/2014bigdata19.asp
To register please contact Sultan Alamro on +44 (0) 207 827 6066 or email salamro(at)smi-online.co(dot)uk
Group booking discounts available.