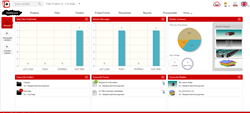 London, UK (PRWEB UK) 17 October 2014
Organised by Fiatech & Comit- Efficiency through Digital Projects this conference presents cutting-edge views on how the three elements that support construction work—people, processes and technology—can be integrated and organized for moving into digital projects. Only through digital projects can the industry strive to achieve effective outcomes in increasingly complex construction endeavours.
http://www.cvent.com/events/efficiency-through-digital-projects/event-summary-b6f99e4e64484ceb8c370a9d5bf0cf27.aspx
For more information on the two organising companies please see below.
http://www.comit.org.uk/
http://fiatech.org/
Formed in 2001, Asite helps people share information and build knowledge in a secure environment in the cloud. Every day, people all over the world use Asite to manage their projects and supply chains collaboratively to get the information they need – when and where they need it. As 2014 is now "the year of Adoddle" the Asite team Officially Launched Adoddle 17 on March 17th in Tech City's Shoreditch Town Hall. Asite are set to change the face of Collaborative Software in the Cloud; with 360° clarity, drag & drop simplicity, Adoddle 17 users are no more than few clicks away from their data.
Asite will be present at the event showcasing our new platform, Adoddle 17.