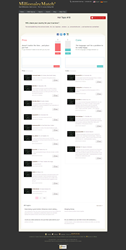 (PRWEB) October 20, 2014
The wealthy dating site MillionaireMatch.com, which has huge database of wealthy men and wealthy women, has asked its users if they would leave their countries for true love. The answers it has received to its question so far have been overwhelmingly positive.
One user called leaving the country for love, "the most beautiful risk you can take". Another said, "I would go anywhere in the world to be with the man I fall in love with. Love does not come around too often!" Those who weren't as enthusiastic to leave the country cited the language barrier as the thing that would hold them back. One user said of this hurdle, "Two people can have feelings for each other, but to really be able to relate and communicate, you will have to speak to each other. Understanding is a must to make any relationship work!"
Sammy, the leader of MillionaireMatch.com, says of the responses that the site has received so far, "These uplifting and inspirational responses demonstrate how romantic our users are. Our users have shown us through their answers that they are committed to true love." She adds, "While we make it easy for our users to meet successful singles, the way our users have responded shows that geography shouldn't be a barrier for a couple that finds that they are truly compatible."
While moving around the world for love may be a hurdle, MillionaireMatch.com has made the process of online dating, and eventually real-world dating, as easy as possible for its users. It offers millionaire dating advice on everything from first dates that are certain to impress that special someone to long-distance dating.
With "2,251,135 attractive singles"—and counting—users are certain to find someone who interests them, whether they are around the block or around the world.
The debate details of "Will u leave your country for your true love" Can be found on the site.
MillionaireMatch.com is dedicated to connecting "successful, attractive, available singles and admirers". It has huge database of verified millionaire singles and elite singles. In its 14 years, it has received a number of accolades, including being voted "Best of the Web" by Forbes.com. It has been featured on CNN, ABC, and CBS, and The Wall Street Journal.
For more information, please visit http://www.millionairematch.com/.