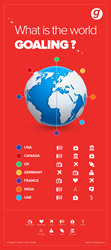 Sunnyvale, CA (PRWEB) November 15, 2014
While the previous 10,000 users of Linkagoal's community in the USA have been creating goals regarding Business, Education, and Health; the rest of the world has been following a similar pattern, with the exception of vacation goals becoming more prominent. It seems people from other parts of the world are slightly more interested in travelling than those in the USA. Linkagoal, the fastest growing Goal Based Social Network, shared this brief information about its user base interests.
"Nowadays we are seeing more goals based on global causes, such as World Hunger, Giving Back to the Community, Helping the Homeless and World Peace. It just feels great to see how people are coming together on this platform to make a difference; not just in their lives but on much bigger and important matters": Nasir Jamal, (Co-Founder and Deputy CEO).
This simple goal making-platform, with a rapidly growing user base enables a global community of goal oriented, like-minded individuals, to work and influence each other in making and achieving goals.
Linkagoal works on a simple yet powerful concept to Create, Link and Contribute. The site allows its members to write goals (Create), connect with common goals and aspirations (Link) and help someone to achieve their goal (Contribute).
Mohsin Shafique, Linkagoal CEO and Founder says, "The best thing about this platform is that people across the globe are helping each other in achieving goals; we have different users from diverse backgrounds and they are using their expertise and their research to contribute towards the goals. To make this process more engaging, Linkagoal has provided four different ways of contributing to someone's goal. One can contribute by plain text, use video URL, audio URL or by image."
Its latest features help its users to create Private goals. One can create private goals and share them with selected people by sending a "Link Request". Activities on private goals are only visible to those few invited linkers. Another exciting new feature is Goal Score; this represents the number of times a user has impressed someone to receive an up-vote on their contributions; someone who inspired another to link to their goal or have made them follow their profile due to their constant efforts in helping others. The higher the Goal Score the more influential that user becomes and is subsequently considered more trustworthy in Linkagoal's Community!
About Linkagoal: Linkagoal promotes the habit of writing goals and helps to connect individuals based on similar goals and objectives in life. Linkagoal is a goal based social network, it works on a simple yet powerful concepts of Create, Link and Contribute. The site allows its members to write goals (Create), connect with common goals and aspirations (Link) and help someone achieve their goal (Contribute). Linkagoal is based on the belief that the lack of resources, guidance, experience, accountability, and encouragement hinder people from achieving their goals. Please visit http://www.linkagoal.com.