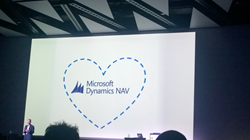 The atmosphere this year was fantastic, in no small part due to the excitement around the release of NAV 2015.
(PRWEB UK) 20 October 2014
Following the announcement of the release of NAV 2015, TVision consultants Pippa Odell and Jason Bradley and Project Manager Jane Ralphs visited the Microsoft Dynamics NAV's Directions EMEA Conference in Pozan, Poland last week to catch up on the latest developments and news around NAV 2015.
The strongest take away message from EMEA was that "Microsoft Loves NAV". This is no great surprise considering that NAV is the best-selling of all Microsoft's ERP solutions, and has the highest levels of customer satisfaction. With the recent release of NAV 2015 the focus of the conference was on the improvements to this leading solution and how it can be rapidly deployed, making it even more accessible and affordable. Pippa Odell comments, "Directions EMEA is always the go to event for everything regarding Microsoft Dynamics NAV, the atmosphere this year was fantastic, in no small part due to the excitement around the release of NAV 2015"
Released under the title of "More Mobile and More Cloud" the emphasis of NAV 2015 is on usability and mobile. With many small changes all adding up to a very impressive bigger picture, this is an evolution of NAV 2013 rather than a revolution. NAV 2015 is more intuitive and interactive than previous versions, with graphs and KPIs accessible from the role centre available through a choice of three clients: Windows, Web and Tablet. Making the solution more accessible and mobile, the integration with Office 365 including single sign-in, improvements on Windows Azure and with a quarter of the bandwidth now required, it means that users can access their data from almost anywhere.
Along with "more mobile" comes greater collaborative working with the Office suite, especially Word, a development that TVision believes many users will find particularly valuable. In previous versions, making changes to the design of output documents was a task mostly left to developers. In NAV 2015, the export to Word functionality has been enhanced allowing changes to reports in Word which can then be saved as templates. Jet Express has created a Word plug-in along the lines of the Jet Express Excel plug-in, to make it even easier for users to pull NAV into Word. NAV 2015s functionality enhancements around bank integration were also showcased.
The parallel theme running alongside the new release was how to help customers rapidly deploy the right solution for their business, not so easy when there are so many choices! Microsoft's view is that users want standard software and so emphasis was on ISV developed add-ins available through the Certified for Dynamics program and the integration with other Microsoft tools. As with all versions of Dynamics NAV, NAV 2015 has the flexibility to be further developed to meet customer specific requirements; increasingly it is an ability that is not required.
From the first announcements, TVision consultants were excited about the developments and improvements offered with NAV 2015. The EMEA Conference fully confirmed their initial enthusiasm. The release of NAV 2015 isn't re-inventing the wheel, it builds on NAV 2013 and injects a "wow" factor that makes the solution more accessible than ever.
Surrey based TVision Technology is a Microsoft Gold ERP Partner. Established in 1999, TVision has clients throughout the UK as well as managing multiple projects at clients' overseas locations. TVision has always focused exclusively on Dynamics NAV and has developed two Dynamics NAV based market solutions: The Wine System for the wine and drinks distribution industry and Agency Time for the recruitment industry.