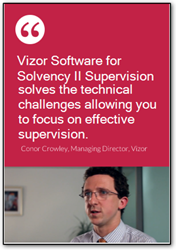 "For Insurance Supervisors, the benefits of "buy" heavily outweigh the headaches of a home grown solution."
Dublin, Ireland (PRWEB) October 20, 2014
As of January 1, 2016, European Insurance Supervision Agencies are required meet a comprehensive programme of regulatory requirements that covers authorisation, corporate governance, supervisory reporting, public disclosure and risk assessment & management, as well as solvency and reserving.
In order to meet this requirement, insurance supervisors need to solve the technology challenge of the new Solvency II implementation without undermining their core business - effective supervision.
Vizor, the world leader in regulatory supervision software, trusted by Central Banks, Insurance Supervision Agencies and Financial Regulators for the collection and validation of highly complex data from Financial Institutions, can automate the entire Solvency II Supervision process for Insurance regulators.
"In situations such as these, the build vs buy decision often arises," says Conor Crowley, Co-founder and Managing Director of Vizor. "Choosing to "build" a non-core process typically has negative results and for Insurance Supervisors, the benefits of "buy" heavily outweigh the headaches of a home grown solution."
Vizor has extensive experience providing solutions that collect and validate quantitive (QRT) and qualitive date from insurance undertakings, as well as analyse, aggregate, summarise and publish quantitative data, and more.
Implementing Vizor Software will save Insurance Supervisors an extensive amount of work in both the short- and long-term, it's something they can do now to prepare themselves for January 1, 2016. As a result, Insurance Supervisors can focus on their core function – effective supervision knowing their Solvency II obligations are taken care of.
Vizor automates the entire Solvency II Supervisory Process for Insurance Supervisors and is as the only provider of an out-of-the-box solution that can be implemented in an eight week 'go live' timeline.
For more information about Vizor's Solvency II for Insurance Supervisor solution visit http://vizorsoftware.com/solvencyII You can also get the latest Vizor news by following Vizor on Twitter and LinkedIn.
About Vizor
Since 2000 Vizor Software has been the standard for financial regulatory technology. Leading the way in regulatory supervision software, Vizor is trusted by Central Banks and Financial Regulators from around the globe for the collection and validation of highly complex data from Financial Institutions. Serving the needs of financial regulators in more than 20 countries, Vizor is a trusted partner of large consulting firms and leading XBRL toolset providers. Employing a collaborative, agile approach to implementing regulatory solutions, Vizor simplifies and strengthens financial regulation systems. You can learn more and visit Vizor at http://www.vizorsoftware.com or by following Vizor on Twitter, LinkedIn, Google+ and Pinterest.