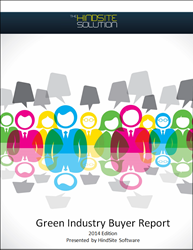 The findings in the Green Industry Buyer Report can help businesses better attract and retain customers.
St. Paul, MN (PRWEB) October 22, 2014
One of the core tenants of any marketing strategy is the importance of understanding a target market. Nowhere is that more apparent than in the 2014 Green Industry Buyer Report recently released by HindSite Software, the leading provider of field service software to green industry businesses.
The Green Industry Buyer Report is based on a comprehensive survey of hundreds of individuals who have purchased green industry services like irrigation service and repair, lawn mowing and fertilization, arbor care, landscaping and snow and ice removal. Respondents live throughout the United States.
Among the key findings in the report:

In general, buyers are happy with their current provider, rating them 8.8 out of 10 on average.
Word of mouth is the most often cited way buyers found their current provider, though the more recent the purchase occurred, the more likely they were to have found their provider by doing an Internet search.
On average, buyers consider 2.14 providers, though buyers from commercial properties and younger buyers are more likely to consider more providers
Residential buyers are most likely to say that they buy green industry services to reduce their property maintenance effort, while commercial buyers are more likely to buy because they want to improve the appearance of their property.
Buyers overwhelmingly prefer email communication to phone, texts, or face-to-face conversations.
Facebook is the most frequently used social media site. Young buyers are much more likely to use social media than older buyers.
"The findings in our Green Industry Buyer Report can help businesses better attract and retain customers," explained HindSite's Marketing Manager, Chad Reinholz. "By understanding a buyers' motivations, communication preferences and decision-making processes, green industry business owners can better position themselves for success."
Demographically, the average buyer of green industry services is older (more than 75% of respondents were 50 or older), has an above average income (more than 80% have a household income in excess of $100,000), and represent a residential property.
"The demographics show the importance of understanding a market," Reinholz said. "For example, if a target buyer is in their 60s, they're less likely to use the Internet and social media and more likely to learn about green industry providers from their friends. If they are in their 30s, they're more likely to use the Internet and almost all of them use Facebook, and a majority of them use Instagram. As a result, a business' marketing tactics are going to significantly differ based on their target audience."
The most surprising result in the report may be the communication preferences of green industry buyers. Nearly 75% of respondents prefer communications in the form of email, citing it over phone calls, face-to-face conversations and text messages. Regardless of age, income, gender or property type, the majority of buyers in each demographic chose email as their preferred method of communication.
"The results highlight the power of email to inform – and promote – a business," explained Reinholz. "It's why HindSite's service business marketing add-on, HindSite Connect, is so popular among green industry business owners. Not only does it streamline sending transactional and promotional emails, but it delivers communication in the format green industry buyers prefer."
The Green Industry Buyer Report is available free at http://info.hindsitesoftware.com/2014-green-industry-buyer-report .
About HindSite Software
HindSite Software has helped green industry contractors better manage and grow their business with field service management software since 2001. Initially designed as irrigation business software, HindSite today assists service businesses with scheduling and billing (e.g QuickBooks scheduling software), contact management, field data collection, and invoicing in QuickBooks® and Sage50. This paperless field service management software has been proven to increase efficiency and organization, meaning greater profit potential with less administrative time.