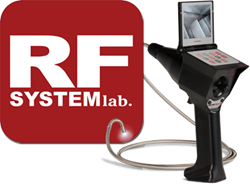 Traverse City, MI (PRWEB) October 20, 2014
Both the ASNT Annual Conference and the Automotive Testing Expo are coming up at the end of October. The ASNT Annual Conference, a forum for the exchange of information regarding the latest advances in Non-destructive Testing technology, is taking place in Charleston, SC from October 27-30, 2014. Taking place during the same dates in Novi, MI, is the Automotive Testing Expo, which promises to display the newest technologies to assist with a huge goal of any automotive company: eliminating recalls. RF System Lab is looking forward to providing demos of the VJ-Advance (VJ-ADV) video borescope at both of these shows.
The ASNT Annual Conference focuses on all uses for NDT, making it an ideal conference for RF System Lab to attend, since they have clients in a large variety of industries that utilize the VJ-ADV for their different applications. RF System Lab's Director of Sales and Marketing, Duncan White, along with borescope sales consultant Zack Wessels, will be onsite at booth #1025 to assist with any borescope questions and to provide demos of the versatile VJ-ADV.
The Automotive Testing Expo is an automotive industry specific show, which is also a great fit for the VJ-ADV. Automotive companies have many uses for high-quality articulating video borescopes like RF System Lab's VJ-ADV – from ensuring quality control during manufacturing to internal inspections of engines. Senior sales consultant Casey O'Tool, along with borescope sales consultant Chad Parker can be found at booth #8044. They are eager to demonstrate how the VJ-ADV can assist automotive maintenance professionals with their internal inspections.
If you are unable to make it to either of these conferences, you can still try out the VJ-ADV video borescope for free by taking advantage of RF System Lab's no cost, no obligation borescope trial. The company will send you the VJ-Advance video borescope so that you can use it while completing inspections at your own facility in order to be sure that it suits all of your requirements. Visit RF System Lab at the ASNT Annual Conference (booth #2015) the Automotive Testing Expo (booth #8044), or contact them today at (855) 787-6966 to arrange to receive your demonstration unit.
RF System Lab is a worldwide leader in remote visual inspection and video borescope technology. RF manufactures the fully-articulating (360 degree) VJ-Advance (VJ-ADV) video borescope; available in 2.8mm, 3.9mm, or 6.9mm insertion tube diameters. The VJ-ADV delivers the ideal features sought after by industry professionals. RF System Lab offers an industry-first, no obligation demo program to allow companies to test drive the VJ-Advance by doing real-world inspections at their own facility for free.