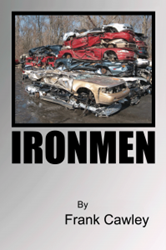 Frank Cawley offers a behind-the-scene glimpse into the world of wheeling and dealing for the country's favorite mode of transportation.
WILLOUGHBY, Ohio (PRWEB) October 17, 2014
There's no doubt that Americans have been fascinated with automobiles since they first rolled into the country. An author with more than five decades of experience selling cars shares his insights into the business in this intriguing new book released by Dog Ear Publishing. Focusing on used car dealerships and practices, Frank Cawley offers a behind-the-scene glimpse into the world of wheeling and dealing for the country's favorite mode of transportation.
"Ironmen," named after the men who originally bought "pieces of iron," or trade-ins, from new car dealers, offers insight on the unique way people usually buy automobiles vs. other big purchases – with a trade-in and negotiation. Dealers originally sold only new cars so they didn't want the used ones, which led to stand-alone used car lots – not affiliated with any car manufacturers or dealers. The people who ran such lots started as small businessmen with little capital, selling used cars as a side business to their real careers. Eventually innovators created a business model still in practice today, and even new car retailers proudly offer dealer-certified used vehicles on their lots.
From descriptions of business attire in the 1960s to business dealings, pranks and the introduction of female sales representatives in the 1980s, Cawley offers an honest perspective on the inner workings of selling cars. Many of the people around him knew how to sell cars but also how to have a good time and live without fear, sometimes with tragic results. Readers will feel Cawley's excitement when he starts a new venture in 1992 at age 60 -- selling Saturns. The unique product – with an equally unique pricing strategy – brought new challenges and new opportunities.
Author Frank Cawley served in the Army in Korea who began selling cars after his discharge in 1954, a career he would have for the next 52 years. His first job was at a Ford dealership.
----------
For additional information, please visit http://www.FrankJCawley.com
Ironmen
Frank Cawley
Dog Ear Publishing
ISBN: 978-1-4575-2952-8 352 pages $20 US
Available at Ingram, Amazon.com, Barnes & Noble and fine bookstores everywhere.
About Dog Ear Publishing, LLC
Dog Ear Publishing offers completely customized self-publishing services for independent authors. We provide cost-effective, fast, and highly profitable services to publish and distribute independently published books. Our book publishing and distribution services reach worldwide. Dog Ear authors retain all rights and complete creative control throughout the entire self-publishing process. Self-publishing services are available globally at dogearpublishing.net and from our offices in Indianapolis.
Dog Ear Publishing – self-publishing that actually makes sense.