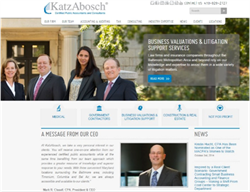 We have added 60 pages to the website, particularly in our services areas, in order to showcase our breadth and depth of business solution offerings
Towson, MD (PRWEB) October 20, 2014
The firm has enacted new efforts to implement a cleaner, streamlined and more user-friendly web aesthetic. New photography conveys a team environment where all departments communicate and collaborate on new and existing client engagements. The services pages have also been built out and are more organized and easy to access. In addition to some of the cosmetic website updates, the firm hired local public relations company DAASN to apply stronger SEO tactics and keyword implementation to targeted industry niches on the backend. Furthermore, the firm is continuously involved on social platforms that help drive web traffic as well.
"We have added 60 pages to the website, particularly in our services areas, in order to showcase our breadth and depth of business solution offerings," says Kelly Ernest, Marketing Manager, at KatzAbosch. "Our firm is unique in that we provide a customized business solution through our vast list of service offerings and specialized expert human capital. I think the website now helps to convey this message. In addition, through our SEO campaigns, we have started to see an uptick in page views and website engagement."
About the Firm
Founded in 1969, KatzAbosch is one of the largest CPA and business consulting services in the Mid-Atlantic region. As a regional accounting firm, our mission is to provide the highest quality accounting, tax, financial and management consulting services to our clients. We understand the needs and challenges of our clients and we have made it our obligation to create, grow and protect asset value. KatzAbosch is consistently named a Best Accounting Firm to Work For in Accounting Today and as one of the Top Workplaces in The Baltimore Sun. Our firm is also ranked among the Top 15 Largest Accounting Firms in the Baltimore Area by the Baltimore Business Journal and among the Top 200 Accounting Firms in the U.S. by Inside Public Accounting.