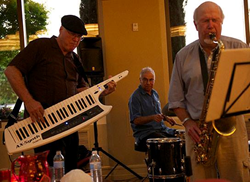 The local community really expressed the desire for an alternative entertainment option in the area, other than the traditional bar scene.
Walnut Creek, CA, Every Friday & Saturday evening (PRWEB) October 22, 2014
The Marriott Walnut Creek's Great Room gets jumping with the sounds of live musical entertainment, now on both Friday and Saturday nights. The live music at these events ranges from Blues to Classic Rock, and features Bay Area performers such as Lady Luck and the Fat Cats, Take Two, Retroz, and more.
This weekend music series is free for both the hotel's overnight guests and those looking for something fun to do in the Walnut Creek area.
The hotel has been hosting Friday Night Jazz for the past few years, but recently noticed demand for even more live events. Eddie Adair, Marriott Walnut Creek's General Manager, said, "We added Saturday nights to our live music repertoire as the local community really expressed the desire for an alternative entertainment option in the area, other than the traditional bar scene."
The live music series takes place each Friday and Saturday evening, between 6 PM - 10 PM. A monthly schedule of upcoming performers can be found on the hotel's website: http://www.marriottwalnutcreek.com/local-area/local-events
About Marriott Walnut:
Marriott Walnut Creek is a full service hotel located in the San Francisco Bay Area. The hotel features valet parking, complimentary wireless internet access in the lobby, and is a short walk or free shuttle ride to the BART station (light rail – connecting the Bay Area). The town of Walnut Creek is famous for its world class dining and shopping. The Marriott Walnut Creek hotel is proud of its excellent reputation for over the top customer service with a smile & outstanding food quality. For more information about the hotel, please visit http://www.marriottwalnutcreek.com or contact Sean Peach, Director of Sales & Marketing, (925) 927-1126 or by e-mail sean.peach@marriottwc.com
# # #