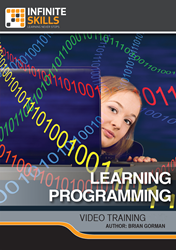 Learn programming concepts at your own speed
(PRWEB) October 17, 2014
Software training firm Infinite Skills Inc. this week released its "Introduction to Programming Tutorial," a brief course designed for those interested in beginning programming or who need to communicate on the job with programming professionals. The course does not teach programming, but introduces key terminology, concepts, and theory involved in programming practice.
The course provides an overview of programming from the standpoint of computing in general, and continues into technical terminology, basic development processes, and broader theory such as object-oriented programming and the difference between procedural and functional programming.
Infinite Skills' "Introduction to Programming Tutorial," is designed to be of use to anyone interested in learning about programming, whether on a path to learning to program, or in work places or other situations where interacting and understanding programming jargon is critical.
Introduction to Programming Tutorial - Streaming
Course author Brian Gorman has twelve years of experience in programming and five as an online instructor. He has taught courses in algorithms and design patterns, SQL, Bootstrap, HTML, and more. He holds a master's in computer information systems and is a Microsoft Certified Solutions Developer.
Gorman begins with an overview of computing and the place of programming within the computing field, including an introduction to IDEs and interpreted versus complied programming languages.
The course then covers essential technical terms of programming, including application and solution, syntax, statements, object type, functions and procedures, and much more.
Next, Gorman explains concepts involved in the development process, such as creating, building, running, and deploying a solution, error and exception handling, basic input-output, and other key areas.
Finally, the course explains theoretical differences in approaches to coding such as the difference between procedural and functional programming, object-oriented language, pseudocode, data structures, and more.
"This course is designed to discuss in an abstract way concepts terms and concepts inside programming," Gorman says. "It assumes no knowledge of programming, and we won't be doing any actual coding. I will be showing how concepts such as loops function, but we won't be covering how to write a loop, for instance."
"The course is designed for people who would like to start out in programming and learn basic concepts, or for non-programmers who need to communicate with programmers on the job."
Free demo videos and a full list of course contents can be found on the "Introduction to Programming Tutorial" training page of the Infinite Skills website:
http://www.infiniteskills.com/training/learning-programming.html
Infinite Skills offers its "Introduction to Programming Tutorial" either as a digital download from the company website at a retail price of $24.95, or as part of the company's streaming subscription service available at a rate of $25 per month. All Infinite Skills titles and formats are compatible with both Mac and Windows operating systems, and shipping is available around the globe. Infinite Skills tutorials are supported by project files which correspond to examples in the videos.
About Infinite Skills Inc.
A leader in the field of software training, Infinite Skills strives to offer the highest quality training available at an affordable cost. Infinite Skills tutorials are task-oriented instructional videos, teaching complex skills by providing hands-on examples, guiding users as they carry out critical objectives. Infinite Skills offers a comprehensive range of software titles available as DVDs, digital downloads, and iPad editions, keeping with company aim of delivering professional training to customers anywhere they want to learn.