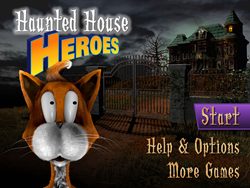 A Frightfully Fun Adventure!
Carmel, NY (PRWEB) October 17, 2014
Set in a quiet little town where something has gone terribly wrong, its up to the player to help Curly Cat find the missing pets and uncover the mystery behind their disappearance. The quest is spooky but often comical, perfect for children and for parents who want to share an adventure with their kids.
Combining beautifully detailed computer generated graphics and original music along with chilling sound effects, Haunted House Heroes immerses the player in a memorable world of fun and excitement. Simple gameplay makes it easy for children (and for adults who don't play games often) to jump right in and begin exploring. Players control where Curly Cat walks and at the same time can tap on objects to activate them. Lights in every room can be turned on and off. Paintings on the walls will come to life when tapped and obstacles such as pumpkins in the dark woods will explode allowing Curly Cat to pass. Tap on drawers and cabinets to reveal hidden keys to open locked doors. And above all, tap on objects to reveal missing pets that Curly can rescue!
Haunted House Heroes is available now:
Haunted House Heroes
$.99 for iPhone and iPod
https://itunes.apple.com/us/app/haunted-house-heroes/id926111489?mt=8
Haunted House Heroes SD
$.99 for iPad (standard definition 1024 x 768)
https://itunes.apple.com/us/app/haunted-house-heroes-sd/id926111513?mt=8
Haunted House Heroes HDX
$1.99 for iPad (high-definition 2048 x 1536)
https://itunes.apple.com/us/app/haunted-house-heroes-hdx/id925705917?mt=8