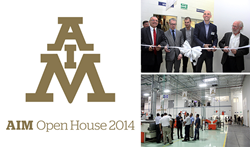 "We were pleased to host this open house, allowing many of our valued customers to tour AIM's new world-class manufacturing facility... We are extremely grateful for the continued support of our customers throughout this important market," said Rick Black
Cranston, RI (PRWEB) October 17, 2014
AIM Solder, a leading global manufacturer of solder assembly materials, hosted a successful Open House at their improved manufacturing facility in Juarez, Mexico. In order to accommodate AIM's expanding business in the region, the company has relocated to a new manufacturing facility, tripling the space of the existing building. In addition to the expansion in the manufacturing and reclamation areas, the new facility holds a state-of-the-art development and testing lab which allows AIM to continue to provide customers with superior products and the best possible solution for their individual assembly process.
"We were pleased to host this open house, allowing many of our valued customers to tour AIM's new world-class manufacturing facility," said AIM's president, Rick Black. "AIM has been operating in Juarez since 1997. We are extremely grateful for the continued support of our customers throughout this important market."
AIM's new facility in Mexico continues to offer locally made solder paste, bar solder, wire solder, and liquid flux. For technical support please call +52 656 630 0032 or if dialing from the US +1 401 404 5547, for sales inquiries please contact Rodrigo Cacho at T: +1 915 217-2278 Ext. 211, or by e-mail rcacho(at)aimsolder(dot)com.
About AIM
Headquartered in Montreal, Canada, AIM Solder is a leading global manufacturer of assembly materials for the electronics industry with manufacturing, distribution and support facilities located throughout the world. AIM produces advanced solder products such as solder paste, liquid flux, cored wire, bar solder, epoxies, lead-free and halogen-free solder products, preforms, and specialty alloys such as indium and gold for a broad range of industries. A recipient of many prestigious SMT industry awards, AIM is strongly committed to innovative research and development of product and process improvement as well as providing customers with superior technical support, service and training. For more information about AIM, visit http://www.aimsolder.com.
Upcoming Events:
October 15 y 16, 2014 - SMTA Guadalajara – Guadalajara, Mexico
October 16, 2014 – Melbourne Assembly, Cleaning, Coating, and Reliability Workshop - Melbourne, FL USA
October 22, 2014 - SMTA Connecticut – Waterbury, CT USA
December 4, 2014 - SMTA Space Coast – Tampa, FL USA