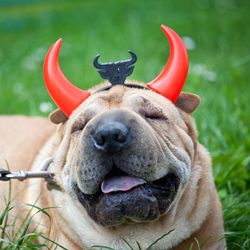 Marietta Vet Clinic is happy to partake in the Halloween fun. We expect a few pets to be dressed in costume, and for those without, a 'one size fits all' sombrero is available for pictures
Marietta, GA (PRWEB) October 21, 2014
It's become tradition in Marietta, GA to celebrate Halloween at the local Marietta dentist office of Drs. Kirk Kimmerling DDS, Suzanna Aguilera DMD and Garrick McGrath DMD. This year, local Marietta veterinarian, Dr. Julian Peckich DVM is joining the fun. Both offices will dress and give out treats to celebrate Halloween in a fun safe way.
"The festivities have been going on for years, and we have many people expecting the dental office to dress. Adding Marietta Vet Clinic will make it that much more fun," says Dr. Kimmerling. Patients and people from the surrounding community are expected to stop, socialize and get Trident gum, toothbrushes, floss, sweets and dog treats.
"Marietta Vet Clinic is happy to partake in the Halloween fun. We expect a few pets to be dressed in costume, and for those without, a 'one size fits all' sombrero is available for pictures," says Dr. Peckich.
In past Halloween events the dental office has had many costumes such as tooth fairies and the seven dwarfs. Even Dr. Kimmerling came as Prince Charming two years ago. Willie, a local rescue dog will come dressed, as the staff and many patients have come to know him quite well.
Kirk Kimmerling DDS and Suzanna Aguilera, DMD are Marietta cosmetic dentists and Marietta emergency dentists that are paving the way for the future of dentistry. The office is technologically sophisticated in not only equipment and procedures, but also developing dental materials via Kimmerling Holdings Group, LLC and fiteBac SkinCare, LLC, Dr. Kimmerling's biotechnology firms. The Marietta emergency dentists invite new patients to meet their exceptional staff and experience and benefit from state of the art dental care. The office offers a broad range of services from teeth cleaning, teeth whitening, dental whitening, dental veneers and Marietta dental implants, Marietta dental veneers, and dental bridges, dental crowns, dental fillings, tooth implants and veneer Marietta and Marietta root canals.
Marietta Vet Clinic and veterinarian, Julian Peckich DVM, are pleased to welcome dogs and cats to the pet clinic, dog clinic and cat clinic. Dr. Peckich provides veterinary services for the Marietta, Kennesaw, Dallas, Acworth, and Powder Springs, GA. It would be their great pleasure to welcome dogs and cats to the pet family for cat vaccinations, dog vaccinations, sick animal relief, laboratory testing, pet teeth cleaning, veterinary dentistry, wellness exams, spay and neuter clinic and mobile veterinary services.